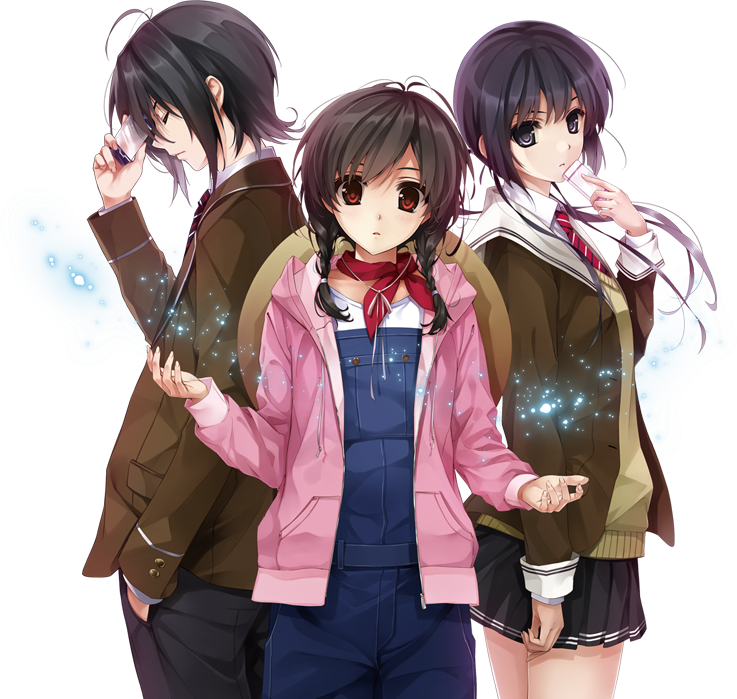 Arata-naru Sekai (アラタなるセカイ) is manga, anime and novel box set. It is a collaboration between Aniplex, ASCII Media Works and Kadokawa Shoten, with animation production by Madhouse. Four high school girls in uniforms walk silently on the barren earth. These girls are time travelers who had been sent 6000 years into the future, from their present in which the same day is endlessly repeated, in order to evade human extinction.
They studied time travel in school, were examined by the aptitude test, and were sent to the future as told. What should they do now? They had no idea. The only thing they could take with them from the present was a light, toy-like cellphone. Of course, it receives no signal here.
As the girls are walking, they see strange birds flying in the sky, and a discolored river in the distance.
Then, one girl finds an abandoned house, and recognizes the name inscribed on the front gates.
Have you ever been thinking how the future might affect your past and vice verse? Well, what this 1 episode OVA tries to do is to sort of make your brain twist around 360 degrees and make you think once again about how the future possibly could be like, as well how it could affect your past and how the two are connected to each other.
The story is in my opinion slightly mind-twisting due to my previous statement but does however do well considering that it in fact is only 30minutes long and the creators actually manages to deliver a message which I believe is rather hard to do in such short amount of time.
It's hard to really review the story without spoiling anything so it'll be a rather short one. It is basically a story about 4 high schoolgirls who has leap through time, 6000 years from their current present time into the future. They are stuck in that very loop of time without any sign of any other mankind. I didn't really get what their goal was or what they were trying to achieve but nonetheless it got me interested and I sat hooked to it throughout the whole OVA since they brought up some interesting ideas on how future and past could be connected to each other.

[sociallocker]
Arata-naru Sekai Bonus CD
アラタなるセカイ 特典CD
Catalog Number ANZX-3993
Release Date Oct 20, 2012
Track List:
1 Main theme
2 Introduction
3 6000 nen Saki no Tabiji
4 Todokanai Kyori
5 Hinichijou na Nichijou
6 Sorezore no Kattou
7 Mujou wo Wasureta Sekai
8 Mou Modoranai Sekai
9 Soredemo Watashitachi wa
10 Yakusa no Omoi
11 Eien no Kousa
12 Tomadoi to Korekara to
13 Kitto Tsunagatteru
14 Tsutaetakatta Koto
15 Arata-naru Sekai
OVA "Arata-naru Sekai" Theme Song
Performer: Marina Kawano
Composer: Satoru Kosaki
Arranger: Satoru Kosaki
Lyricist: Hitoma Iruma [入間人間]
File Size: 57 MB (320kbps)[/sociallocker]