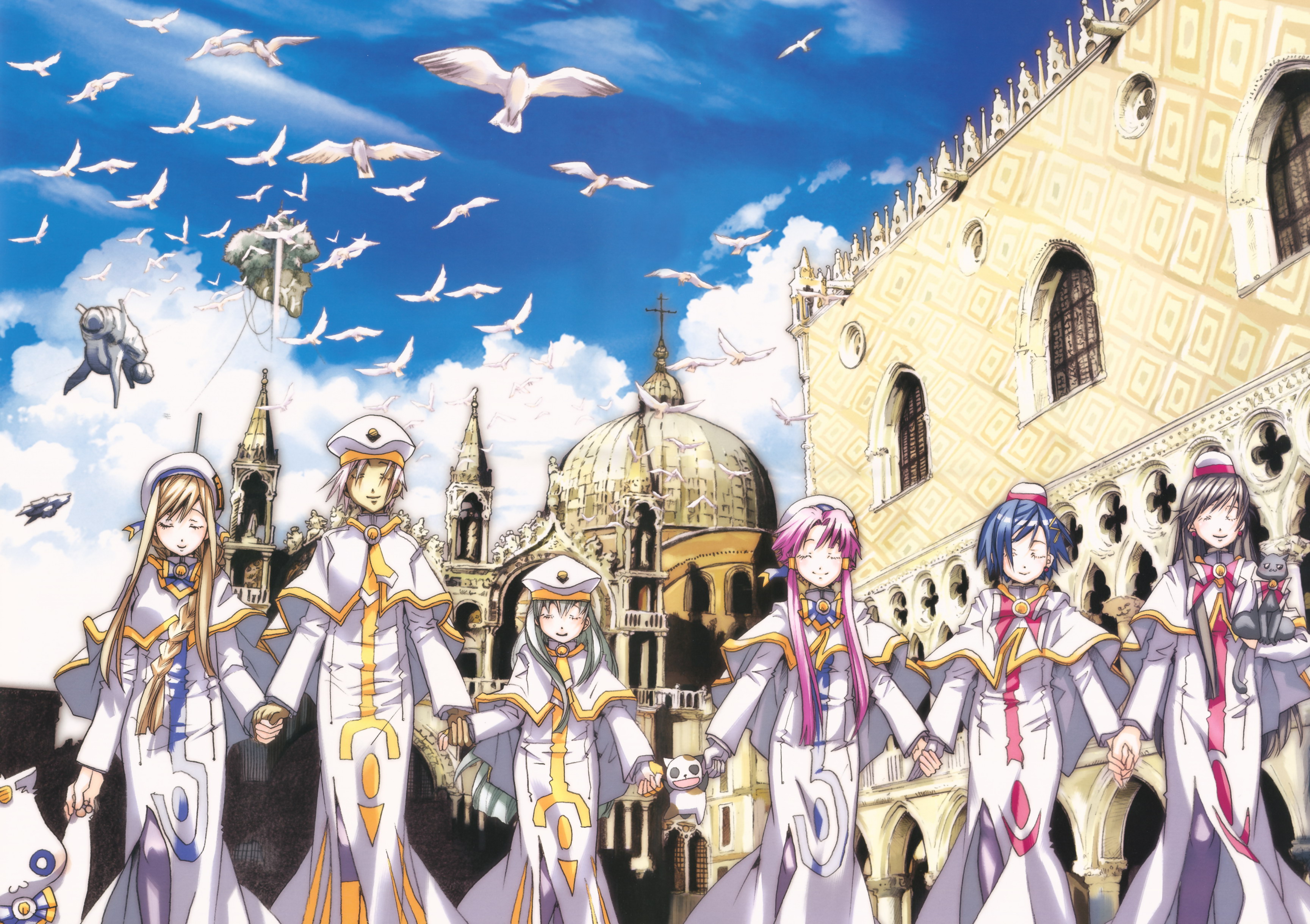 Aria (アリア) is a utopian science fantasy manga by Kozue Amano. The series was originally titled Aqua (アクア) when it was published by Enix in the magazine Monthly Stencil, being retitled when it moved to Mag Garden's magazine Comic Blade. Aqua was serialized in Stencil from 2001 to 2002 and collected in two tankōbon volumes. Aria was serialized in Comic Blade from November 2002 to April 2008 and collected in twelve volumes. The series has been adapted as an anime television series, with a first season broadcast in 2005, a second season in 2006, an OVA released September 2007, and a third season in 2008 that ended around the same time as the manga serialization.
The series is set in the 24th century on a terraformed Mars, now named Aqua, and follows a young woman named Akari Mizunashi as she trains as an apprentice gondolier (known as Undines). The series has been praised for its calm pacing, optimistic worldview, beautiful art, and, for the anime, the quality of the soundtrack. A new OVA, called Aria the Avvenire, was released in September 2015.
Drift peacefully into Neo Venezia, a city on the planet Aqua (formerly known as Mars). By the 24th century, humans have found a way to colonize the previously uninhabitable planet. As futuristic as that sounds, Neo Venezia is still teeming with rustic beauty; gondolas on wide canals and waterways are the main mode of transportation. The city itself is a faithful replication of Manhome's (the planet formerly known as Earth) Venice.
To make sure that residents and tourists alike get the most from Neo Venezia's many wonders, companies offering guided tours via gondola were formed, one of which is named Aria Company.
This is the workplace of Akari Mizunashi, a free spirited teenager from Manhome who is now a novice Undine (the title given to tour guides). Join Akari as she becomes intimately acquainted with other Undine, tourists, Neo Venezia's residents, and even the city itself, learning many valuable life lessons along the way, such as the wonderful truth that there are such things as manmade miracles.
If you're an action junkie, or into horror or angst, then this is not the show for you (although it never hurts to give it a try). This show is funny and quirky in many ways, without going over the top, but the one word I would use to describe the show is RELAX. It took me two weeks to finish this show and it's sequel (which is a long time for me by the way), and this is because this show is so relaxing that I was falling asleep whilst watching it. Normally it takes a lot for me to fall asleep, and even boredom doesn't work, but somehow this show just relaxes you to the point where you just drift off to dreamland without a second thought, and never once was I bored with this show. Overall this is a show that deserves to be watched, as it has a unique appeal that the like's of Sketchbook ~full colour'S~ and Kokoro Toshokan just can't quite match up to. The reason why the non-linear story works well in this show is because it's so relaxing that you honestly just don't care about the fact there's no real plot – which is a rather refreshing perspective to have.
[sociallocker]
Quality: 320kbps + scan bk
Aria the Animation:
OP Theme: "Undine" by Makino Yui [Single]
ED  Theme: "Rainbow" by ROUND TABLE feat. Nino [Single]
Aria the Animation: Original Soundtrack
Aria the Natural
OP: "Euphoria" by Makino Yui [Single]
ED: "Natsu Machi" by ROUND TABLE feat. Nino [Single]
Aria the Natural Vocal Song Collection
Aria the Natural Original Soundtrack due
Aria the Arietta
OP: "Nanairo no Sora wo" by SONOROUS
ED: "Ashita, Yuugure Made" by Erino Hazuki
Aria the Arietta OP & ED Theme [Single]
Aria the Origination
OP: "Spirale" by Yui Makino [Single]
ED: "Kin no Nami Sen no Nami" by Akino Ara [Single]
Aria the Origination Original Soundtrack tre
Aria the Origination Piano Collection II Dipartenza -Tabidachi-
Aria the Avvenire
ED: "Piacere " by Shiena Nishizawa
Aria Album Collection
Aria the BOX [Disc 1] / [Disc 2] / [Disc 3]
Aria Piano Collection I Stagione
NOTE: not interested to upload Drama CD
[/sociallocker]