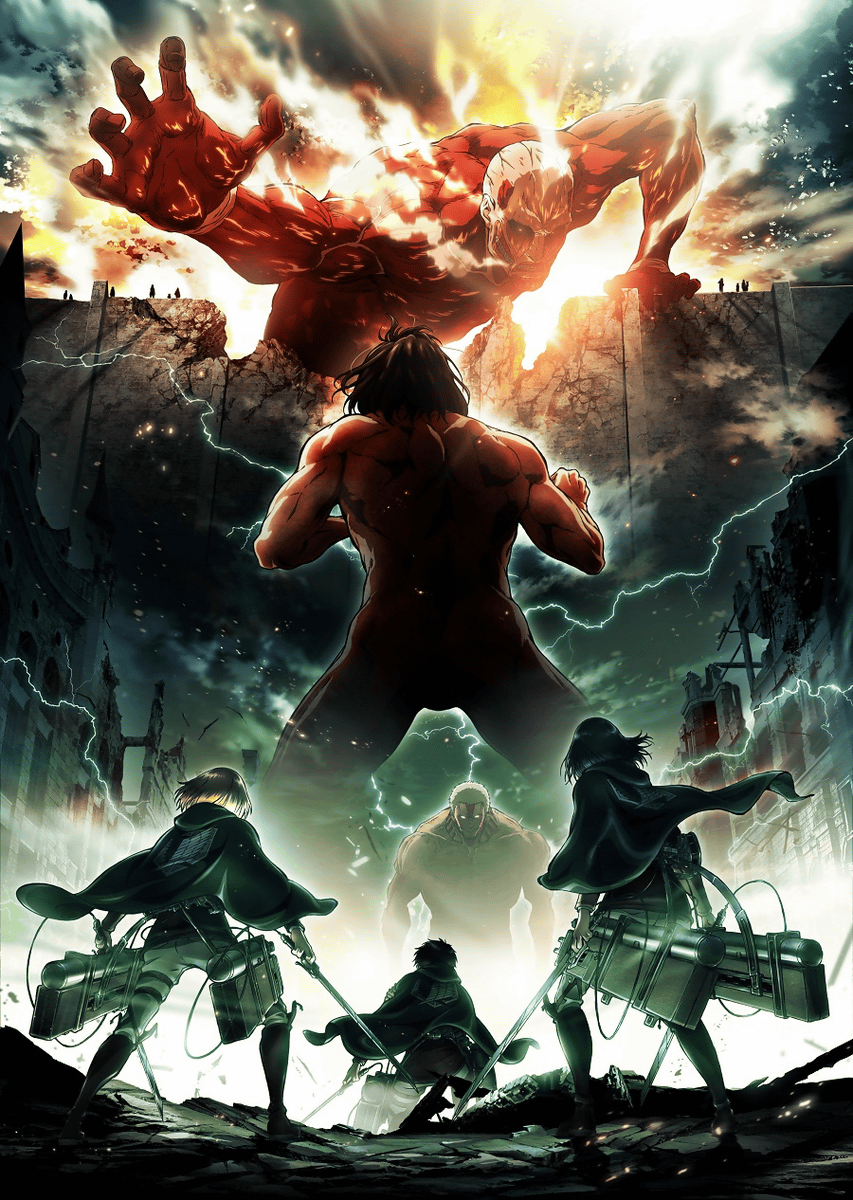 Attack on Titan (進撃の巨人, Shingeki no Kyojin, lit. "Advancing Giants") is a Japanese manga series written and illustrated by Hajime Isayama. The series began in Kodansha's Bessatsu Shōnen Magazine on September 9, 2009. It is set in a world where humanity lives inside cities surrounded by enormous walls; a defense against the Titans, gigantic humanoids that eat humans seemingly without reason. The story initially centers on Eren Yeager, his adopted sister Mikasa Ackerman and childhood friend Armin Arlert, who joins the military to fight the Titans after their home town is invaded and Eren's mother is eaten. However, as the story progresses and the truths about the Titans are slowly revealed to the reader, the narrative shifts to encompass Historia Reiss, squad leader Levi, and other supporting characters. Attack on Titan has become a commercial success. As of July 2015, the manga has 52.5 million copies in print, with 50 million copies in Japan and 2.5 million copies overseas. The release of the anime also saw a boost in the series' popularity, with it having received critical acclaim for its atmosphere and story.
Centuries ago, mankind was slaughtered to near extinction by monstrous humanoid creatures called titans, forcing humans to hide in fear behind enormous concentric walls. What makes these giants truly terrifying is that their taste for human flesh is not born out of hunger but what appears to be out of pleasure. To ensure their survival, the remnants of humanity began living within defensive barriers, resulting in one hundred years without a single titan encounter. However, that fragile calm is soon shattered when a colossal titan manages to breach the supposedly impregnable outer wall, reigniting the fight for survival against the man-eating abominations.
After witnessing a horrific personal loss at the hands of the invading creatures, Eren Yeager dedicates his life to their eradication by enlisting into the Survey Corps, an elite military unit that combats the merciless humanoids outside the protection of the walls. Based on Hajime Isayama's award-winning manga, Shingeki no Kyojin follows Eren, along with his adopted sister Mikasa Ackerman and his childhood friend Armin Arlert, as they join the brutal war against the titans and race to discover a way of defeating them before the last walls are breached.
2013: Shingeki no Kyojin
[May 08, 2013] ED1: Utsukushiki Zankoku na Sekai
[Jun 28, 2013] "Attack on Titan" Original Soundtrack
[Jul 10, 2013] OP: Guren no Yumiya / Jiyuu no Tsubasa
[Aug 21, 2013] Drama CD: Sasha no Dotou no Ryouri Batoru hen!!
[Aug 21, 2013] ED2: Great escape – cinema staff
[Oct 16, 2013] "Attack on Titan" Original Soundtrack II
[Oct 16, 2013] Shingeki no Kyojin Radio CD Vol. 1
[Mar 19, 2014] Shingeki no Kyojin Radio CD Vol. 2
[July 23, 2014] Shingeki no Kyojin Radio CD Vol. 3
[Aug 20, 2014] Shingeki no Kyojin Radio CD Vol. 4
[July 15, 2015] Shingeki no Kyojin Radio CD Vol. 5
[Oct 21, 2015] Shingeki no Kyojin Radio CD Vol. 6
[Mar 16, 2016] Shingeki no Kyojin Radio CD Vol. 7
[Apr 20, 2016] Shingeki no Kyojin Radio CD Vol. 8
2014: Shingeki no Kyojin Movie 1: Guren no Yumiya
[Nov 19, 2014] ED: "YAMANAIAME" by Hiroyuki Sawano feat. Mica Caldito & mpi & Mika Kobayashi
[Nov 22, 2014] OP: "Guren no Zahyou (Movie Size) – Linked Horizon
[Mar 18, 2015] Attack on Titan -Guren no Yumiya- Original sound track
2015: Shingeki no Kyojin Movie 2: Jiyuu no Tsubasa
[Jun 27, 2015] OP: "Jiyuu no Daishou" – Linked Horizon
[Dec 16, 2015] ED: "theDOGS" by Hiroyuki Sawano feat. mpi
[Dec 16, 2015] Attack on Titan -Jiyu no Tsubasa- OST
2015: Shingeki! Kyojin Chuugakkou (進撃!巨人中学校)
[Oct 05, 2015] OP: "Seishun wa Hanabi no You ni – Linked Horizon
[Nov 18, 2015] ED: "Hangeki no Daichi" by Eren, Jean , Mikasa
[Dec 16, 2015] Le●i : Hizamazuke Butadomo ga
[Jan 20, 2016] Le●i : Clarity
[Jan 20, 2016] Attack on Titan: Junior High OST
[Feb 17, 2016] Shingeki Matsuri Memorial Album
[Feb 17, 2016] attack on titan: junior high Radio CD
2017: Shingeki no Kyojin 2
[Mar 15, 2017] Character Image Song 1: Eren
[Mar 15, 2017] Character Image Song 2: Mikasa
[Apr 26, 2017] Character Image Song 3: Armin Arlert
[Apr 26, 2017] Character Image Song 4: Jean Kirstein
[May 17, 2017] Shingeki no Kiseki / Linked Horizon
[May 24, 2017] Character Image Song 5: Bertolt Hoover & Reiner Braun
[May 24, 2017] Yuugure no Tori/Hikari no Kotoba / Shinsei Kamattechan
[Jun 07, 2017] "Attack On Titan" Season 2 Original Soundtrack
[Jun 21, 2017] Character Image Song 6: Levi
[Jun 21, 2017] Character Image Song 7: Erwin Smith
Last Modified: June 21, 2017