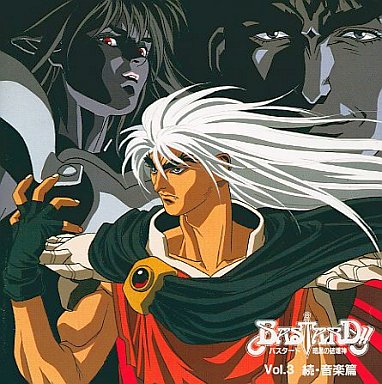 Bastard!!: Heavy Metal, Dark Fantasy (BASTARD!!-暗黒の破壊神- Bastard!!: Ankoku no Hakai Kami, lit. "Bastard!! The Destructive God of Darkness"
is a manga by Kazushi Hagiwara. It first appeared in Weekly Shōnen Jump, in 1988, and continues to be published irregularly today in Ultra Jump. Currently, it spans 27 volumes. Kazushi Hagiwara is an enthusiastic fan of heavy metal music and Dungeons & Dragons, using ideas from both of these in the Bastard!! story. Many characters and places in the story, for instance, are named after members of Hagiwara's favorite bands. Hagiwara also attributes the manga Devilman by Go Nagai as a primary influence on his artwork. Bastard!! is one of Weekly Shōnen Jump's best-selling manga series of all time, with over 30 million copies sold by 2008.
The characters in BASTARD!! have forsaken technology and have traded it in for magic and the occult arts. The story revolves around a group of five magicians who set out to rebuild their world after a rampaging God destroys it and tips it into chaos. Driven by their leader Dark Schneider, Gara, Arshes Nei, Abigail and Kall Su set out to conquer kingdoms in the hope of rebuilding them into utopias, with each of the magicians having their own personal agenda in doing so. However, Dark Schneider`s often reckless manner and short temper leads him to wreak havoc where ever he goes. He is trapped by a group of clerics in a baby boy, leaving the four without a leader.
Fifteen years later, the four still continue their quest but their motives have changed to despotic world domination, and it is up to Dark Schneider to show them the "error of their ways", when he is freed by the clerics who once imprisoned him, so that he may defend them against his former comrades. It has now become Dark Schneider`s responsibility to track down each one of his companions and set them on the right path again, but what seems to be the once reckless and amoral Dark Schneider has changed over his fifteen year imprisonment within the boy, Luche Len Len.[sociallocker]
Ending Theme: "Monochrome Trouble" by Toshinori Yonekura
Bastard Original Soundtrack (320kbps): OST 1 / OST 2 / OST 3
Original Soundtrack the Best of Bastard (160kbps) [/sociallocker]