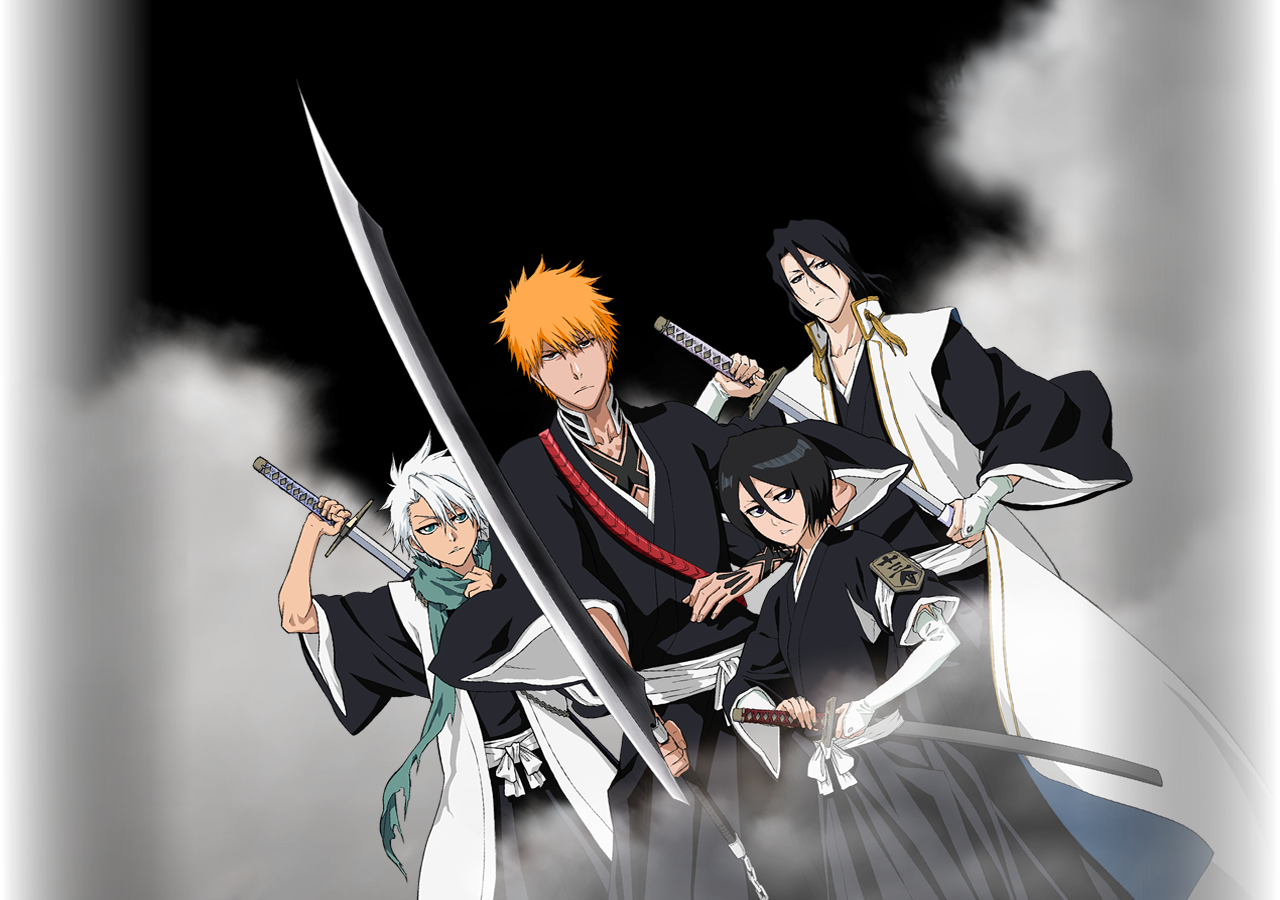 Bleach (ブリーチ) is a Japanese anime series based on Tite Kubo's manga of the same name. Bleach was produced by Studio Pierrot and directed by Noriyuki Abe. Bleach follows the adventures of Ichigo Kurosaki after he obtains the powers of a Soul Reaper (死神 Shinigami, literally, "Death God"
— a death personification similar to the Grim Reaper — from another Soul Reaper, Rukia Kuchiki. His newfound powers force him to take on the duties of defending humans from evil spirits and guiding departed souls to the afterlife. Studio Pierrot produced the series from 2004 to 2014, consisting of 366 episodes.
Bleach
Bleach is one of the three so-called "mainstream shonen animes"; together with Naruto and One Piece these three are immensely popular, and the topic of endless comparison among their fans set out to prove that their favorite is the best out of them. They simply refuse to exit their fanboyism to view the series in an objective light, which is a shame, because they are probably missing out on great adventures, which is the case of Bleach in many ways. If you want my review short and good, give Bleach a try no matter what people have said, as it, despite a lot of shortcomings, presents a most interesting and enthralling universe. The soundtrack however, is very great. It is greatly varied, and is renewed per story arc, introducing new tunes often whilst keeping the old ones around too, and this variation is intrinsical of any above-average soundtrack. It stays perfectly in tone and atmosphere with the current events, and feature everything from upbreat, adrenaline-pumping electric guitar pieces to melliflous piano pieces, and standard comedic moment tracks. The opening and ending themes feature a lot of types and genres, from the serene and sentimental to rap and rock. And pop, of course.
Opening Theme:
Op 1: Asterisk – Orange Range
Op 2: D-Technolife – UVERworld
Op 3: Ichirin no Hana – High and Mighty Color
Op 4: Tonight, Tonight, Tonight – Beat Crusaders
Op 5: Rolling Star – YUI
Op 6: ALONES – Aqua Timez
Op 7: After Dark – Asian Kung Fu Generation
Op 8: CHU-BURA – Kelun
Op 9: Velonica – Aqua Timez
Op 10: Shoujo S – SCANDAL
Op 11: Anima Rossa – Porno Graffiti
Op 12: chAngE – Miwa
Op 13: Ranbu No Melody – SID
Op 14: BLUE – ViViD
Op 15: Harukaze – SCANDAL
Ending Theme:
Ed 01: Life is Like a Boat – Rie Fu
Ed 02: Arigatou [Thank You!!] – Home Made Kazoku
Ed 03: Houki Boshi – Younha
Ed 04: Happy People – Skoop on Somebody
Ed 05: Life – YUI
Ed 06: My Pace – SunSet Swish
Ed 07: Hanabi – Ikimono-gakari
Ed 08: MOVIN!! – Takacha
Ed 09: Baby It's You – JUNE
Ed 10: Sakura Biyori – Mai Hoshimura
Ed 11: Tsumasaki – Ore Ska Band
Ed 12: Daidai – Chatmonchy
Ed 13: Tane wo Maku Hibi – Atari Kousuke
Ed 14: Kansha. [Gratitude] – Real Street Project
Ed 15: Orange – Lil'B a.k.a MIEAILA
Ed 16: Gallop – pe'zmoku
Ed 17: Hitohira no Hanabira – Stereopony [Single]
Ed 18: Sky Chord – Tsuji Shion [Single w/ scans]
Ed 19: Kimi o Mamotte, Kimi o Aishite – Sambomaster [Single]
Ed 20: Mad Surfer – Kenichi Asai [Single]
Ed 21: Sakurabito – SunSet Swish [Single]
Ed 22: Tabidatsu Kimi He – RSP [Single]
Ed 23: Stay Beautiful – DIGGY-MO' [Single w/ scans]
Ed 24: Echoes – Universe [Single]
Ed 25: Last Moment – SPYAIR
Ed 26: Song For… by Rookiez is Punk'D [Overcame Ver.] [Single]
Ed 27: Aoi Tori – Fumika [Single]
Ed 28: Haruka Kanata – UNLIMITS [Single]
Ed 29: Re
ray – Aimer
Ed 30: Mask – Aqua Timez
Insert Song:
Nothing Can't be Explained – MIKE WYZGOWSKI [Vocal Ver.] [Instr. Ver.]
Number One – Hazel FERNANDEZ [Vocal Ver.] [Instr. Ver.]
TV Animation Bleach Original Soundtrack (by Shirou Sagisu):
1 (w/scanS) / 2 (w/scanS) / OST 3 (320kbps) / OST 4 (320kbps)
BLEACH 5th Anniversary DVD-BOX (Bonus CD): (320kbps, w/scanS)
– Bonus CD1: Unreleased tracks "BLEACH Extra Soundtrack"
– Bonus CD2: Special Drama CD "Rukia"
Scenario writer: Masahiro Okubo [大久保昌弘]
Cast: Rukia Kuchiki (CV:Fumiko Orikasa), Renji Abarai (CV:Kentaro Ito), Byakuya Kuchiki (CV:Ryotaro Okiayu), Kaien Shiba (CV:Toshihiko Seki), Ichigo Kurosaki (CV:Masakazu Morita)
Bleach: Memories in the Rain (OAV)
Ending Theme: "Memories in the Rain" by Kurosaki Ichigo
Bleach The Movie (Theme Song & OST):
Bleach Movie 1 Memories of Nobody
1. Sen no Yoru wo Koete – Aqua Timez [Original Soundtrack]
Bleach Movie 2 Diamond Dust Rebellion
2. Hikari no Rock – Sambomaster [Original Soundtrack]
Bleach Movie 3 Fade to Black
3. Koyoi, Tsuki ga Miezu tomo – Porno Grafitti [OST w/scanS]
Bleach Movie 4 Jigoku Hen
4. Save The One, Save The All – T.M. Revolution [OST w/scanS] [OST Limited Edition]
Bleach Beat Collection:
1. First Season:
1. Ichigo Kurosaki
2. Renji Abarai
3. Uryuu Ishida
4. Hanataro Yamada & Kon
5. Ichimaru Gin
2. Second Season:
1. Ichigo Kurosaki & Zangetsu
2. Toshiro Hitsugaya, Rangiku Matsumoto & Momo Hinamori
3. Kenpachi Zaraki, Yachiru Kusajishi, Ikkaku Madarame, & Yumichika Ayasegawa
4. Jin Kariya, Ririn, Kuroudo, & Nova
5. Rukia Kuchiki & Orihime Inoue
3. Third Season:
1. Ulquiorra Schiffer
2. Grimmjow Jeagerjaques
3. Aizen Sousuke
4. Kaname Tousen
5. Neliel Tu Oderschvank
6. Szayel Apollo Granz
4. Fourth Season:
1. Byakuya Kuchiki & Rukia Kuchiki
2. Ukitake Jushiro & Shiba Kaien
3. Amagai Syusuke & Kifune Makoto
4. Kurosaki Ichigo and & Kuchiki Rukia
5. Mayuri Kurotsuchi & Nemu Kurotsuchi
*Bleach Beat Collection Special Edition: Ichigo Kurosaki & Toshiro Hitsugaya
BLEACH BREATHLESS:
1 – Kurosaki Ichigo & Zangetsu
2 – Kuchiki Rukia & Sode no Shirayuki
3 – Abarai Renji & Zabimaru
4 – Hitsugaya Toushirou & Hyourinmaru
5 – Hisagi Shuhei & Kazeshini
6 – Byakuya Kuchiki & Senbonzakura with Muramasa
Bleach Album Collection:
Bleach The Best Instrumental/JAM SET GROOVE
Bleach Beat collection The Best
Bleach Beat collection The Best 2
BLEACH BEST TUNES
BLEACH BERRY BEST
BLEACH BEST TRAX
Bleach Drama CD 1 – 6
Bleach The Best (w/scanS)
BleCon (w/scanS):
BLEACH CONCEPT COVERS
BLEACH CONCEPT COVERS 2 (w/scanS)
B Station (DJ CD):
Bleach B Station (Season #1): Vol 1 | Vol 2 | Vol 3 | Vol 4 | Vol 5 | Vol 6 |
Bleach B Station (Season #2): Vol 1 | Vol 2 | Vol 3 | Vol 4 | Vol 5 | Vol 6 |
Bleach B Station (Season #3): Vol 1 | Vol 2 | Vol 3 | Vol 4 | END |[
[July 19, 2006] Bleach "B" Station Vol.5
Last Modified: June 30, 2017