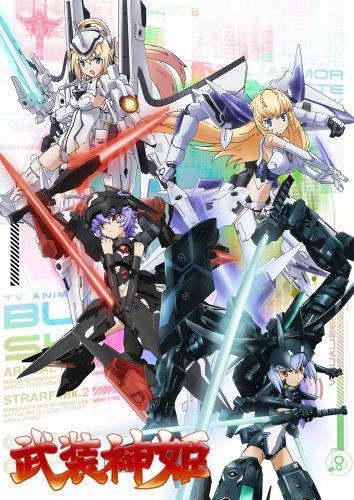 Busou Shinki (武装神姫, literally "armament god princess") is a product line of small, armored women action-figure toys manufactured by Konami Digital Entertainment first released in Japan in 2006. The figures can be configured in different poses and feature a variety of interchangeable parts. Many of the figures have been designed by noted Japanese artists. A few of the figures have been released for distribution outside Japan. Since their introduction this toy line has spawned a media franchise with video games, manga series, graphic novels, anime series, music, art books and other merchandise.
The slice-of-life battle story is set in a future that has neither World War III nor an alien invasion—just an ordinary future set after our current age. In this world, robots are part of everyday life, and they contribute in various aspects of society. "Shinki" are 15-centimeter-tall (about 6-inch-tall) cute partners made to assist humans. Equipped with intelligence and emotions, they devote themselves to serving their "Masters."
These Shinki can even be equipped with weapons and armor to fight each other. Such Shinki are named "Busou Shinki" (literally, "armed divine princesses"). In particular, the Shinki Ann (Arnval), Aines (Altines), and Lene (Altlene) serve a high school freshman named Masato. Things change when a new Shinki, the bellicose Strarf, joins them.
[Oct 17, 2012] Ending Theme: "Taiyou no Sign" by azusa
[Oct 17, 2012] OP: "Install x Dream"
[Nov 21, 2012] Busou Shinki Character Song: Vol.1 -Bu- An (CV Asumi Kana)
[Nov 21, 2012] Busou Shinki Character Song: Vol.2 -Sou- Hina (CV Chiara Minori)
[Nov 21, 2012] Busou Shinki Character Song: Vol.3 -Shin- Ines (CV Mizuhashi Kaori)
[Nov 21, 2012] Busou Shinki Character Song: Vol.4 -Ki- Lene (CV Nakajima Megumi)
[Dec 05, 2012] Busou Shinki Original Soundtrack
[Dec 26, 2012] Busou Shinki Character Song Album: Scenes from BUSOUSHINKI
Last Modified: June 25, 2017