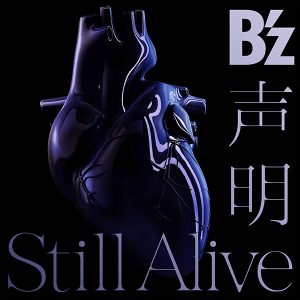 Seimei/Still Alive (声明, Declaration) is the fifty-third single by B'z and their third double A-side, released on June 14, 2015. It is their first since 2015's non-album single "RED" and stands as the single with the most unique tracks in their catalogue. The single also collects digital singles "Sekai wa Anata no Iro ni Naru" and "Fukiarenasai" for the first time on a physical B'z release, which were released in October and November of 2016 respectively. Both songs served as themes to feature films, with the former being featured in the 2016 anime film Detective Conan: The Darknes Nightmare and later as the opening to the corresponding television series and the latter in the action-comedy film Shippu Rondo.
Released June 14, 2017
Tracklist
1. Seimei — Declaration, 声明
2. Still Alive
3. Sekai wa Anata no Iro ni Naru — The Color This World Will Take Depends on You, 世界はあなたの色になる
Sekai wa Anata no Iro ni Naru is a song by B'z. The song is the 43rd opening of the anime and is also the ending theme for the 20th movie, The Darkest Nightmare. It was released as a digital download on October 4, 2016. The fifth movie theme provided by the band for the Detective Conan film franchise, "Sekai wa Anata no Iro ni Naru" is a special entry for several reasons. The darker tone of the music intentionally contrasts with other songs B'z have contributed to the series. In the writing and recording process, Koshi noted that they aimed to create a different sort of song because the movie itself intended to center in on some of the "darker parts of Conan's story".
4. Fukiarenasai — Blow Violently, フキアレナサイ
Envisioned as a winter version of "ultra soul", "Fukiarenasei" was written for the action film Shippu Rondo. Due to both members' ongoing solo projects, the song was recorded and produced separately while Koshi worked with Stevie Salas in Tokyo and Tak worked with Daniel Ho in Los Angeles. The track features Jason Sutter and occasional B'z collaborator Juan Alderete on drums and bass, respectively, with the former having worked with Tak during production on enigma and on tour for Tak Matsumoto Tour 2016 -The Voyage-.
(MP3)