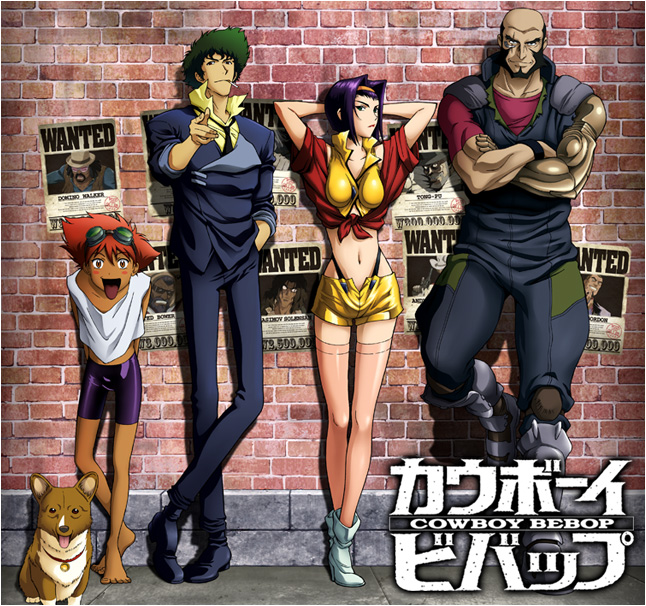 Cowboy Bebop (カウボーイビバップ) is a 1998 Japanese anime series animated by Sunrise featuring a production team led by director Shinichirō Watanabe, screenwriter Keiko Nobumoto, character designer Toshihiro Kawamoto, mechanical designer Kimitoshi Yamane, and composer Yoko Kanno. The twenty-six episodes ("sessions") of the series are set in the year 2071, and follow the lives of a bounty hunter crew traveling on the Bebop (their spaceship). Cowboy Bebop explores philosophical concepts including existentialism, existential ennui, and loneliness.
The series premiered in Japan on TV Tokyo from April 3 until June 26, 1998, broadcasting only twelve episodes and a special due to its controversial adult-themed content. The entire twenty-six episodes of the series were later broadcast on WOWOW from October 24 until April 24, 1999. In the years since its release, critics and reviewers, from the United States in particular, have hailed Cowboy Bebop as a masterpiece and frequently cite it as one of the greatest anime series of all time. Credited with helping to introduce anime to a new wave of Western viewers in the early 2000s, Cowboy Bebop has also been labelled a gateway series for the medium as a whole.
The year 2071 A.D. That future is now. Driven out of their terrestrial eden, humanity chose the stars as the final frontier. With the section-by-section collapse of the former nations a mixed jumble of races and peoples came. They spread to the stars, taking with them the now confused concepts of freedom, violence, illegality and love, where new rules and a new generation of outlaws came into being. People referred to them as Cowboys.
Meet Spike and Jet, a drifter and a retired cyborg cop who have started a bounty hunting operation. In the converted ship The Bebop, Spike and Jet search the galaxy for criminals with bounties on their heads. They meet a lot of unusual characters, including the unusually intelligent dog, Ein, and the voluptuous and vexing femme fatale, Faye Valentine.[sociallocker]
Opening Theme: "Tank!" by The Seatbelts (eps 1-25)
Ending Theme:"The Real Folk Blues" by The Seatbelts feat. Mai Yamane
"Space Lion" by The Seatbelts (ep 13)
"Blue" by Mai Yamane with Gabriela Robin (ep 26)
Discography:
[1998.05.21] Cowboy Bebop O.S.T. 1
[1998.06.03] Cowboy Bebop Vitaminless
[1998.10.21] OST 2 Cowboy Bebop No Disc
[1999.05.01] Cowboy Bebop BLUE (by The Seatbelts)
[1999.06.06] Cowboy Bebop Remixes: Music for Freelance
[2001.06.21] Cowboy bebop presents COWGIRL ED Original Soundtrack 3
[2001.07.25] Cowboy Bebop SEATBELTS ask DNA
[2001.08.29] Cowboy Bebop O.S.T Future Blues
[2002.06.21] Cowboy Bebop CD BOX (Disc1 / Disc2 / Disc3 / Disc4 / Disc5)
[2004.12.22] Cowboy Bebop Tank! THE! BEST![/sociallocker]