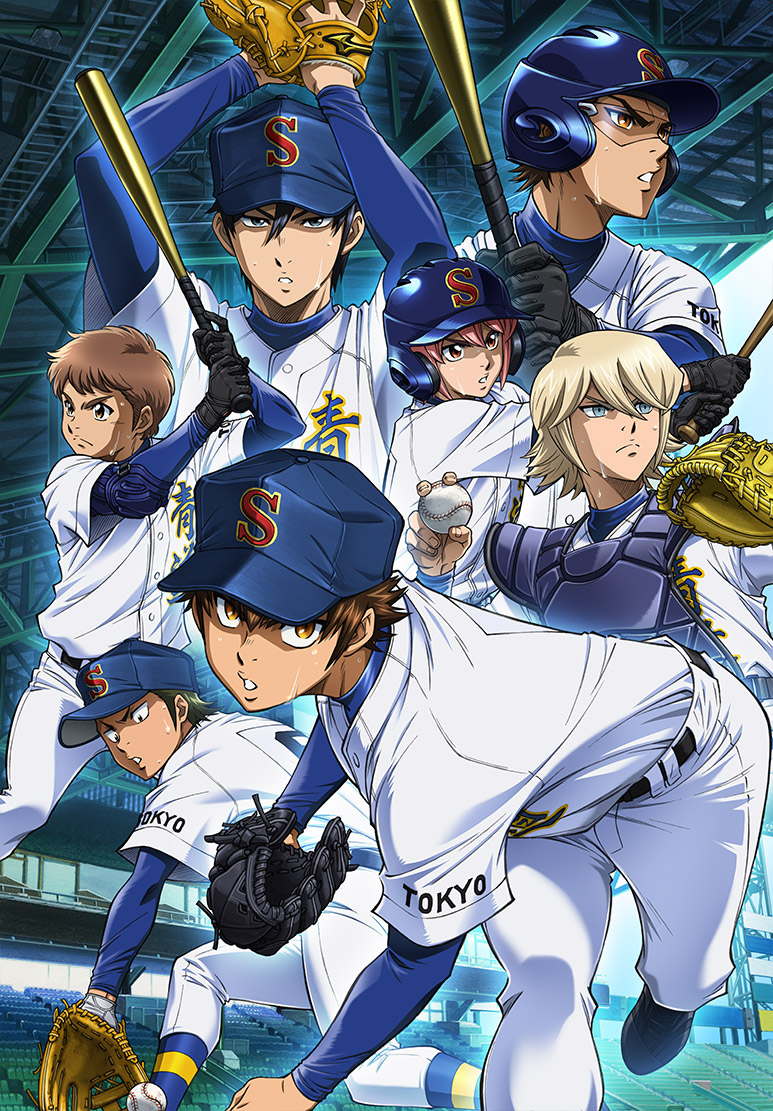 Ace of Diamond (ダイヤのA, Hepburn: Daiya no A, also known as Diamond's Ace) is a shōnen baseball manga written and illustrated by Yuji Terajima and published by Kodansha. It has been serialized by Weekly Shōnen Magazine since 2006. In 2008, Ace of Diamond received the Shogakukan Manga Awards for the shōnen category. In 2010, it won the Kodansha Manga Award for best shōnen manga. An anime adaptation was premiered on 6 October 2013.
The story is pretty straightforward: we follow Sawamura's journey as a pitcher as he grows and develops his skills in order to become the ace of Seidou's (famous) high school baseball team. But the show provides us more than just following Sawamura's journey; we basically get an overall glimpse of how high school baseball in Japan. The show definitely takes its time to progress, and we don't really see Sawamura beginning to grow until we're about 12 or so episodes in. But, in the episodes before that we see exactly why it took him a while and how hard he's worked up till then; we also get to see a pretty touching relationship develop between him and his future mentor.
Though I initially did get the feel that Sawamura is the absolute MC, as the story progressed and more characters were introduced, there was a slight focus shift where Sawamura was undoubtedly still the MC, but the other Seidou team members were also just as important. One thing that the story always provides and excels at is: SUSPENSE. DnA knows hows to build up suspense leading up to the final scene in every episode, especially in the later episodes when they're in the Koshien qualifying matches.
The story isn't so interesting, it won't draw your attention when you read the synopses, especially since the show took a kinda different way than the first two episodes. It starts with the main character "Sawamura Eijun" who loves Baseball, and plays it everyday with his friends, who are not so good at it, one day he gets a chance to go to "Seido" a school with a strong Baseball team, even though he turns down the offer, because he doesn't want to leave his friends who got stuck playing Baseball with him for too long, but he ends up going anyway, after he tries to play a little challenge against a Seido player, which gets him so excited. After that, the plot focuses on all of the players, and we never see Sawamura's friends again (not until episode 27 at least). I'm actually okay with that, because all of the characters are interesting, and the rivalry among the team's players is what makes this show so unique, it kinda reminded me of Slam Dunk.
Last Modified: Apr 6, 2018
————————————————————-
[Oct 30, 2013] Masayoshi Oishi – Go EXCEED!!
[Nov 13, 2013] Yoko Hikasa – Seek Diamonds
[Feb 05, 2014] Suzuko Mimori – Glory!
[May 21, 2014] Masayoshi Oishi – Perfect HERO
[May 28, 2014] D ou P – Mirai e Tsunage
[Aug 12, 2014] Seido High School Baseball Club – CLOUD NINE
[Sept 10, 2014] Diamond no Ace Character Song Series Vol. 1: Eijun Sawamura
[Sept 10, 2014] Diamond no Ace Character Song Series Vol. 2: Satoru Furuya
[Sept 10, 2014] Diamond no Ace Character Song Series Vol. 3: Haruichi Kominato
[Oct 15, 2014] GLAY – Hashire! Mirai
[Nov 05, 2014] Sawamura, Furuya, & Haruichi – Promised Field
[Dec 03, 2014] Diamond no Ace Character Song Series Vol. 4: Ryosuke Kominato
[Dec 03, 2014] Diamond no Ace Character Song Series Vol. 5: Yoichi Kuramochi
[Jan 28, 2015] Seido High School Baseball Club – Final Victory
[Feb 11, 2015] Diamond no Ace Character Song Series Vol. 6: Yu Chris Takigawa
[Feb 11, 2015] Diamond no Ace Character Song Series Vol. 7: Tetsuya Yuki
[Feb 11, 2015] Diamond no Ace Character Song Series Vol. 8: Jun Isashiki
[Mar 18, 2015] Diamond no Ace Character Song Series Vol. 9: Mei Narumiya
[Mar 18, 2015] Diamond no Ace Character Song Series Vol. 10: Raichi Todoroki
[Mar 18, 2015] Diamond no Ace Original Soundtrak
[May 20, 2015] OxT – KIMERO
[May 25, 2015] Glay – Heroes
[Jul 22, 2015] Diamond no Ace Character Song Series EX: Haruichi & Ryosuke
[Aug 12, 2015] Seido High School Baseball Club – BLUE WINDING ROAD
[Aug 12, 2015] Diamond no Ace Character Song Collection "RIVAL"
[Oct 28, 2015] Diamond no Ace Character Song Series Vol. 11: Norifumi Kawakami
[Oct 28, 2015] Diamond no Ace Character Song Series Vol. 12: Shinji Kanemaru
[Oct 28, 2015] Diamond no Ace Character Song Series Vol. 13: Hideaki Tojo
[Nov 11, 2015] OxT – Bloom of Youth
[Jan 27, 2016] Glay – G4・IV
[Feb 17, 2016] Eijun Suwamura with Masayoshi Oishi – BRAND NEW BLUE
[Feb 17, 2016] Ace of Diamond OST 2
[Mar 02, 2016] OxT – Complete Songs "ACE OF DIAMOND"
[Mar 21, 2018] Daia no Best