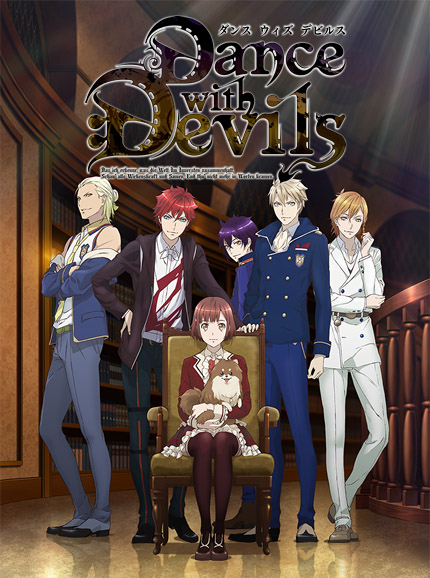 Dance with Devils is an original Japanese anime television series. It began airing in October 2015. An original manga began serialization in G Fantasy in September 2015. The story revolves around Ritsuka Tachibana attending Shikō Academy, where she becomes the object of affection for a number of demons, while trying to hunt down the location of the "Forbidden Grimoire".
"Daß ich erkenne, was die Welt im Innersten zusammenhält, schau' alle Wirkenskraft und Samen, und thu' nicht mehr in Worten kramen."
"That I realize what keeps the world together at heart, look at all effectualness and seeds and don't rummage in words anymore."
At a street that looks nostalgic, in Shikou Village.
Ritsuka Tachibana, a second year high schooler who attends Shikou Gakuen.
She spends a peaceful school life with her mother Maria, but the balance will collapse one day—.
Is that a person or a devil?
This is a story of a girl who is being loved and charmed by beautiful devils.
Opening Theme
#1: "Yami no Hanayome (闇の花嫁)" by Grimoire ensembl (Eps 01)
#2: "Kakusei no Air" by Wataru Hatano
Ending Theme: "Mademo★Iselle" by PENTACLE★
Musical Song Single
1 – Rem Kaginuki (CV. Soma Saito)
2 – Urie Sogami (CV. Takashi Kondo)
3 – Lindo Tachibana (CV. Wataru Hatano)
4 – Mage Nanashiro (CV. Subaru Kimura)
5 – Shiki Natsumezaka (CV. Daisuke Hirakawa)
6 – Roen (CV. Tatsuhisa Suzuki)
[Dec 25, 2015] Musical Collection: Dance with Destinies
[Nov 23, 2016] UNIT SINGLE4 MAXXIS with ROEN
Bonus CD:
[Dec 25, 2015] 1- OST 1
[Jan 22, 2015] 2 – Radio CD 1
[Feb 19, 2016] 3 – OST 2
[Mar 18, 2016] 4 – Radio CD 2
[Apr 22, 2016] 5 – Akuma Uta e Karaoke CD
[May 20, 2016] 6 – Radio CD 3
"Dance with Devils -Fortuna-"
[Nov 22, 2017] KING & QUEEN / Wataru Hatano
[Jan 24, 2018] Musical Collection "Dance with Eternity"