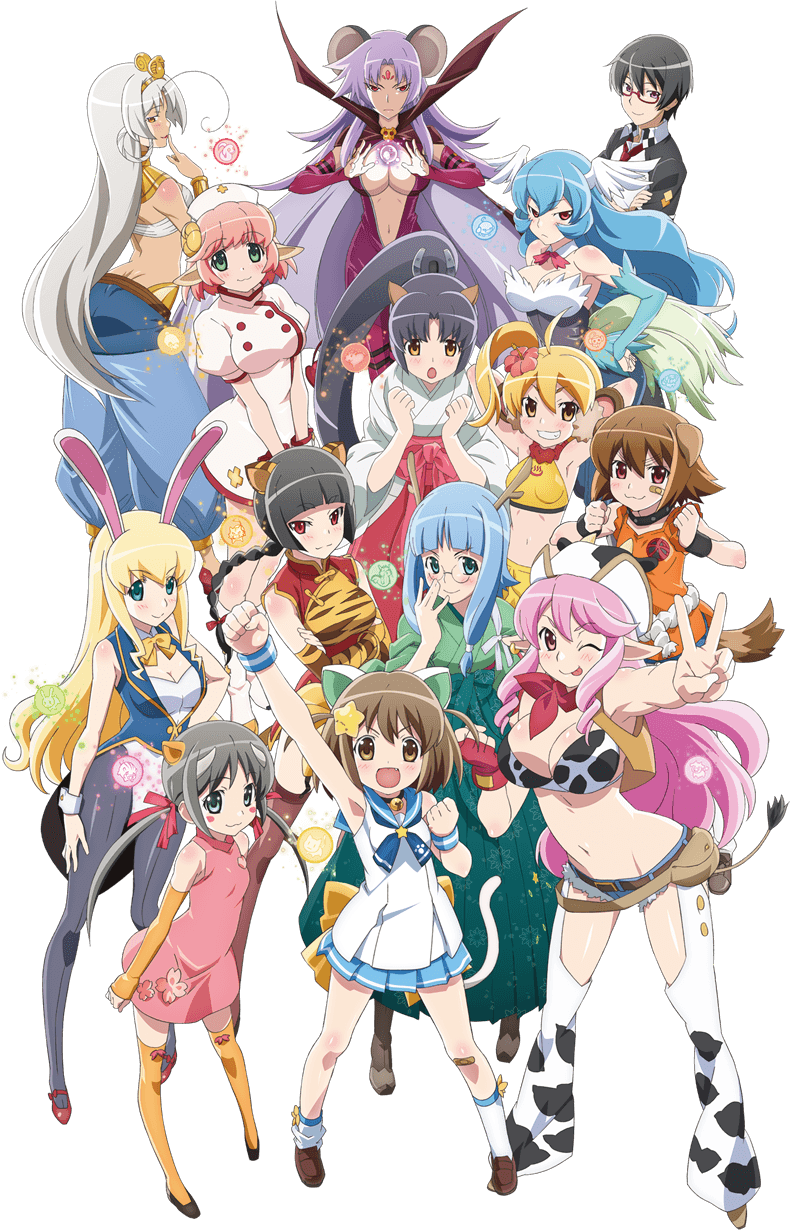 Etotama (えとたま) is a Japanese anime television series produced by Shirogumi and Encourage Films, which began airing from April 9, 2015. A manga adaptation began serialization from December 2013 in ASCII Media Works's shōnen manga magazine Dengeki Daioh. The anime's story revolves around Nya-tan, the cat of Chinese astrology who wants to become a member of the Chinese zodiac. Nya-tan is simple and suffers from memory loss, and she tries various foolish ways to become a member. She meets Takeru Tendo, a high school student who lives alone in Akihabara, and becomes a freeloader at his house. Little by little, she gets closer to her goal.
Sol/Lull is the source of the Eto-musume's life force. Sol/Lull is the embodiment of proper human emotions, it's a type of energy only humans possess, like Takeru Amato. Every time a human feels grateful, Sol/Lull appears. And when Sol/Lull collects into an Eto-musume's soul, their Etotama, they transform from adult mode, the form that allows then to exist in the human world, to the form that allows them to fight in the Eto world, Pretty mode.
You have twelve zodiac characters, Nyaa-tan, Takeru and maybe two more side characters that are not important as the cast. About Nyaa-tan, the main focal character, she may be dumb and crazy most of the time, but sometimes she understands the situations she face and gets on working to solve them. Maybe a few people will find this daunting, thinking that once she goes back being her usual self, the mood of the story gets ruined. But I felt quite the opposite, since I never want the emotions of the anime to develop further to become forced drama. Her involvement with Takeru is very big, in that case he is like her support. However silly she tries to force him into giving support, he usually does it whenever it is needed. I do not know if there is a lesson learnt in this, but I find it nice. For the other characters, I can say that they definitely have different personalities which have similar anime tropes. As I mentioned earlier, one or a few of them gets their own spotlight in each episode, but I feel that the spotlight do not necessarily be bright. The range of their involvement depends, so while some do have something, others are treated more as side characters who probably make people laugh. Character development is minimal, or I think it was not noticed enough.
Etotama is an anime that I found myself to be very high whenever I watch the episodes. Thanks to the comedy, the awesome 3D animation, Nyaa-tan herself, and some of the other characters in the anime, I pretty much enjoyed it a lot. Sure, there are some flaws along the way, but they are just unnoticeable if you do not care at all. And now that is over, I really hope there is another anime next season that fills that spot similar to the anime.
Theme Song / Character Song Mini Album / THE BEST of ETOTAMAX / OST /