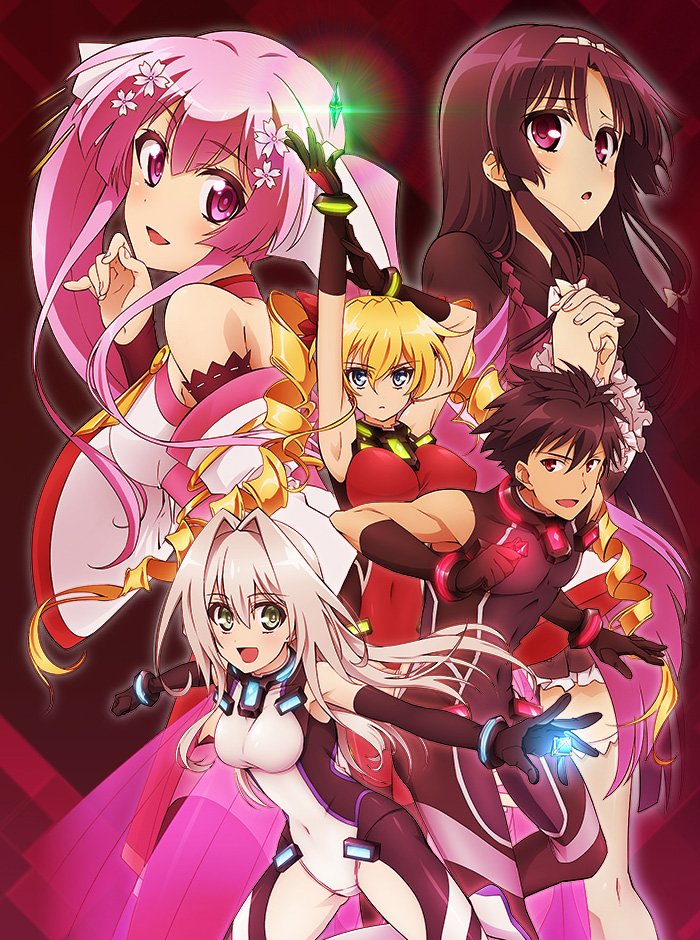 Hundred (ハンドレッド) is a Japanese light novel series written by Jun Misaki and illustrated by Nekosuke Ōkuma. SB Creative has published seven novels since November 15, 2012 under their GA Bunko imprint. A manga adaptation with art by Sasayuki was serialized in Fujimi Shobo's Monthly Dragon Age magazine. An anime television series adaptation, produced by Production IMS and directed by Tomoki Kobayashi, will premiere in April 2016.
"Hundred"—that is the only weapon that can oppose the mysterious life form "Savage" from visiting the earth.
The protagonist, Kirasagi Hayato, aims to become a Martial Arts Master using this Hundred. He managed to get into the battleship university Little Garden.
However—
"I wanted to see you, Hayato!!!"
"H-How do you know my name?"
Around the roommate, Emil Crossford, who somehow knows him well (?), Hayato gets an uneasy feeling.
What's more, just after the entrance ceremony, he gets asked for a duel by the campus' strongest martial arts master "Queen" Claire Harvey…!?
The ultimate academy battle begins here!
Opening Theme
[May 25, 2016] "BLOODRED" by D-selections
Ending Theme
[May 25, 2016] #1: "EYES ON ME" by Emilia (Rumi Ookubo) & Sakura (Mayu Yoshioka)
[Jun 22, 2016] #2: "TABOOLESS" by Claire (M.A.O) & Liddy (Rika Kinugawa) & Erica (Yui Makino)
[Jul 27, 2016] #3: "Hardy Buddy" by Reitia (Yuka Ootsubo) & Fritz (Wataru Hatano)
[Aug 24, 2016] #4: "Jewels Of Love" by Sakura (Mayu Yoshioka) & Karen (Kaya Okuno)
[Sep 28, 2016] Hundred Battle Song Series 01
[Sep 28, 2016] Hundred Battle Song Series 01
[Sep 28, 2016] Hundred Battle Song Series 03
[Sep 28, 2016] Hundred Battle Song Series 04