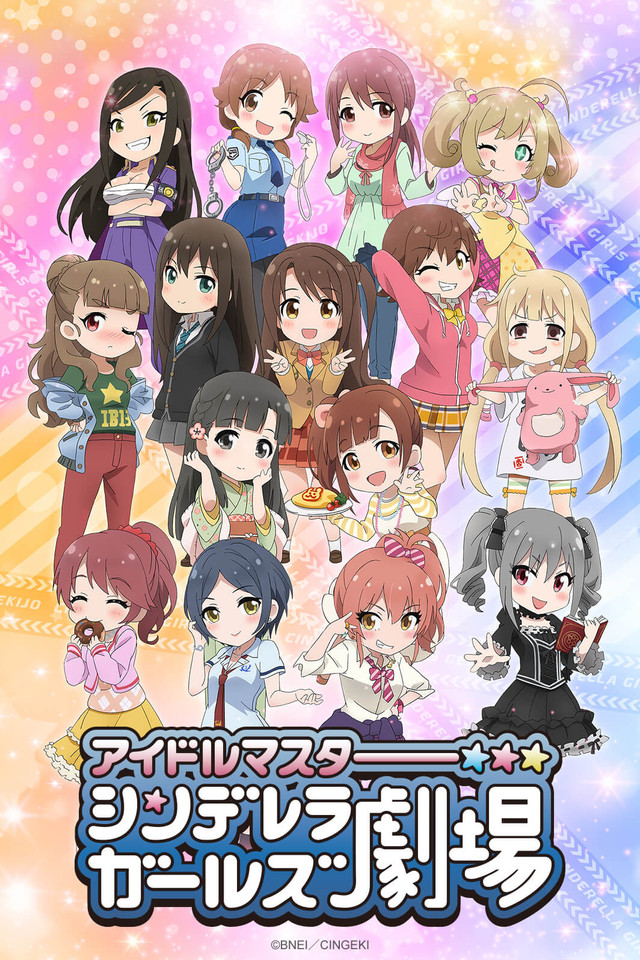 The Idolmaster (アイドルマスター, officially stylized as THE iDOLM@STER) is a Japanese raising simulation and rhythm video game series created by Bandai Namco Games (formerly Namco). The series primarily centers on the career of a producer who works with a group of prospective pop idols at the talent agency 765 Production. Originally released as an arcade game in 2005, the franchise has grown to numerous ports, sequels and spin-offs across multiple video game consoles, including three social network games. The series includes a variety of other media such as anime, printed media, audio dramas and radio shows. Each installment of The Idolmaster has seen different levels of success, though the games and related media have earned over 10 billion yen as of 2013.
THE IDOLM@STER follows 13 girls from the 765 Production Studio, whose sole goals is to become the top idols in the Japanese entertainment industry. Along with the laughs, struggles and tears that are inherently part of this journey, you will cheer for the girls of IDOLM@STER as they climb their way to the top!
THE iDOLM@STER is an animated adaptation of THE iDOLM@STER 2 with various elements changed to incorporate all the idols and their stories instead of just concentrating on one like in the games. The show was produced by A-1 Pictures Inc., a studio subsidiary of Sony Music Entertainment's anime production firm Aniplex. After the first two seasons, an OVA was released as the 26th episode, and three separate episodes were added within each corresponding version of THE iDOLM@STER SHINY FESTA. A Weiβ Schwarz TCG set was also released, featuring shots from the anime. Soon after, a movie titled: THE IDOLM@STER MOVIE: Kagayaki no Mukougawa e! was released in the same canon as the anime.
THE iDOLM@STER (TV Animation)
[Feb 09, 2011] ED (eps 01): The world is all one!!
[Aug 10, 2011] OP1: READY!!
[Sep 07, 2011] THE IDOLM@STER ANIM@TION MASTER 02
[Oct 05, 2011] THE IDOLM@STER ANIM@TION MASTER 03
[Oct 27, 2011] Bonus CD 1 – THE IDOLM@STER PERFECT IDOL 01
[Nov 09, 2011] OP2: CHANGE!!!!
[Nov 23, 2011] Insert Song: Alice or Guilty & Koi wo Hajimeyou
[Nov 23, 2011] Bonus CD 2 – ドラマCD「765プロ企画会議中!」
[Nov 30, 2011] THE IDOLM@STER ANIM@TION MASTER 05
[Dec 28, 2011] THE IDOLM@STER ANIM@TION MASTER 06
[Dec 29, 2011] Bonus CD 3 – THE IDOLM@STER PERFECT IDOL 02
[Feb 01, 2012] THE IDOLM@STER ANIM@TION MASTER 07
[Feb 23, 2012] Bonus CD 5 – THE IDOLM@STER PERFECT IDOL 03
[Mar 29, 2012] Bonus CD 6 – ドラマCD「プロデューサーの休日」
[Apr 26, 2012] Bonus CD 7 – THE IDOLM@STER PERFECT IDOL 04
[Jun 28, 2012] Bonus CD 9 – ドラマCD「生っすか!?サンデー お蔵入り編」
[Aug 15, 2012] THE IDOLM@STER ANIM@TION MASTER Namassuka SPECIAL 01
[Sep 05, 2012] THE IDOLM@STER ANIM@TION MASTER Namassuka SPECIAL 02
[Sep 26, 2012] THE IDOLM@STER ANIM@TION MASTER Namassuka SPECIAL 03
[Oct 17, 2012] THE IDOLM@STER ANIM@TION MASTER Namassuka SPECIAL 04
[Nov 07, 2012] THE IDOLM@STER ANIM@TION MASTER Namassuka SPECIAL 05
[Jan 30, 2013] THE IDOLM@STER ANIM@TION MASTER Namassuka SPECIAL Curtain Call
[Apr 10, 2013] THE IDOLM@STER ANIM@TION MASTER Namassuka SPECIAL Gengaku Shijuusou Hatsukoi Kumikyoku
[July 07, 2013] THE IDOLM@STER ANIM@TION MASTER READY!! Solo Remix
[Jan 29, 2014] Theme Song The Movie: M@STERPIECE
[Feb 05, 2014] THE IDOLM@STER MOVIE OST (Limited Edition)
[Jun 18, 2014] 765PRO ALLSTARS – Ramuneiro Seishun
[Aug 13, 2014] 765PRO ALLSTARS – Nijiiro Miracle
[Oct 08, 2014] THE IDOLM@STER MOVIE Special CD
Puchimas! -PETIT IDOLM@STER-
ぷちます! -プチ・アイドルマスター-
[Nov 28, 2012] OP: La La La Wonderland
[Jan 09, 2013] PETIT IDOLM@STER Twelve Seasons! Vol.1
[Jan 09, 2013] PETIT IDOLM@STER Twelve Seasons! Vol.2
[Jan 30, 2013] PETIT IDOLM@STER Twelve Seasons! Vol.3
[Jan 30, 2013] PETIT IDOLM@STER Twelve Seasons! Vol.4
[Feb 06, 2013] PETIT IDOLM@STER Twelve Seasons! Vol.5
[Feb 06, 2013] PETIT IDOLM@STER Twelve Seasons! Vol.6
[Feb 27, 2013] PETIT IDOLM@STER Twelve Seasons! Vol.7
[Feb 27, 2013] PETIT IDOLM@STER Twelve Seasons! Vol.8
[Mar 06, 2013] PETIT IDOLM@STER Twelve Seasons! Vol.9
[Mar 06, 2013] PETIT IDOLM@STER Twelve Seasons! Vol.10
[Mar 27, 2013] PETIT IDOLM@STER Twelve Seasons! Vol.11
[Mar 27, 2013] PETIT IDOLM@STER Twelve Seasons! Vol.12
[Mar 27, 2013] PETIT IDOLM@STER COLLECTORS EDITION VOL.1 CD SPECIAL DISC
[Apr 24, 2013] PETIT IDOLM@STER COLLECTORS EDITION VOL.2 CD SPECIAL DISC
[May 29, 2013] PETIT IDOLM@STER COLLECTORS EDITION VOL.3 CD SPECIAL DISC
[Apr 18, 2014] PETIT IDOLM@STER THANKSGIVING DAY SPECIAL CD
[May 28, 2014] PETIT PETIT IDOLM@STER VOL.1 SPECIAL CD
[May 28, 2014] Puchimasu!! PETIT PETIT IDOLM@STER Ending Theme
[May 28, 2014] PETIT IDOLM@STER Twelve Campaigns! Vol.1
[Jun 04, 2014] PETIT IDOLM@STER Twelve Campaigns! Vol.2
[Jun 25, 2014] PETIT IDOLM@STER Twelve Campaigns! Vol.3
[Jun 25, 2014] PETIT IDOLM@STER VOL.2 SPECIAL CD (OST) // VGMDB.
[Jul 09, 2014] PETIT IDOLM@STER Twelve Campaigns! Vol.4
[Jul 30, 2014] PETIT IDOLM@STER Twelve Campaigns! Vol.5
[Aug 06, 2014] PETIT IDOLM@STER Twelve Campaigns! Vol.6
THE IDOLM@STER CINDERELLA GIRLS ANIMATION
TVアニメ「アイドルマスターシンデレラガールズ」, Project:
[Jan 21, 2015] 00 ST@RTER BEST
[Feb 18, 2015] 01 Star!!
[Mar 18, 2015] 02 Memories
[Mar 25, 2015] 03 Engel- Adanasu Tsurugi Hikari no Shirabe
[Apr 01, 2015] 04 Happy×2 Days
[Apr 08, 2015] 05 LET'S GO HAPPY!!
[Apr 15, 2015] 06 ØωØver!!
[Apr 22, 2015] 07 Dekitate Evo! Revo! Generation!
[Apr 23, 2015] 346Pro IDOL selection vol.1
[May 13, 2015] 08 GOIN'!!!
[Jun 25, 2015] Drama CD vol.1 "What would you like to do?"
[Jul 23, 2015] 346Pro IDOL selection vol.2
[Aug 05, 2015] 2nd Season 01 Shine!!
[Aug 27, 2015] Drama CD vol.2 "Sometimes sweet become bittersweet"
[Sep 23, 2015] 2nd Season 02
[Sep 25, 2015] 346Pro IDOL selection vol.3
[Sep 30, 2015] 2nd Season 03
[Oct 07, 2015] 2nd Season 04
[Oct 14, 2015] 2nd Season 05
[Nov 11, 2015] 2nd Season 06
[Nov 25, 2015] 2nd Season 07 M@GIC☆
[Nov 26, 2015] Drama CD vol.3 "Treasure of Exploration"
[Dec 23, 2015] 346Pro IDOL selection vol.4
[Jan 28, 2016] Drama CD vol.4 "Challenges to change"
[Feb 25, 2016] 346Pro IDOL selection vol.5
[Mar 30, 2016] ORIGINAL SOUNDTRACK
The iDOLM@STER Cinderella Girls Theater
[April 26th, 2017] Kiraa! Mankai Smile
[May 24, 2017] SPECIAL CD Vol. 1
[May 24, 2017] Étude wa Ikkyoku Dake
[June 28, 2017] SUN♡FLOWER
[June 28, 2017] SPECIAL CD Vol. 2
[July 26, 2017] SPECIAL CD Vol. 3
[Nov 01, 2017] Blooming Days
[Dec 06, 2017] Akimeite Ding Dong Dang!
[Jan 10, 2018] Snow*Love
THE IDOLM@STER SideM ANIMATION
[Nov 15, 2017] Project 01 "Reason"
[Nov 22, 2017] THE IDOLM@STER Prologue SideM -Episode of Jupiter- Bonus CD
[Dec 13, 2017] Project 02 "TOMORROW DIAMOND"
[Dec 13, 2017] Project 03 "From Teacher To Future!"
[Dec 13, 2017] Project 04 "AFTER THE RAIN"
[Dec 27, 2017] THE IDOLM@STER SideM Vol.1 Bonus CD
[Jan 17, 2018] Project 05 "Over AGAIN"
[Jan 17, 2018] Project 06 "Sunset★Colors"
[Jan 17, 2018] Project 07 "ARRIVE TO STAR"
[Jan 24, 2018] THE IDOLM@STER SideM Vol.2 Bonus CD
[Jan 31, 2018] Project 08 "GLORIOUS RO@D"
[Feb 28, 2018] THE IDOLM@STER SideM Vol.3 Bonus CD
[Mar 28, 2018] THE IDOLM@STER SideM Vol.4 Bonus CD
Last Modified: Mar 17, 2018