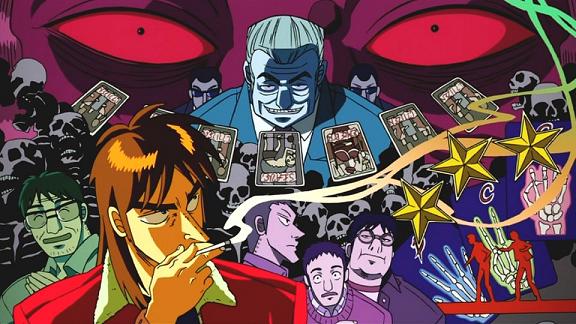 Based on the first entry of the famous gambling manga series by Nobuyuki Fukumoto, Gyakkyou Burai Kaiji: Ultimate Survivor follows our unlucky protagonist as he is forced to fight not only other people, but also the mysteries of their psyches. Kaiji finds out the hard way that the worst sides of human nature surface when people's backs are against the wall, and that the most fearsome dangers of all are greed, paranoia, and the human survival instinct itself.
Tobaku Mokushiroku Kaiji (賭博黙示録カイジ, Gambling Apocalypse Kaiji), also known as Ultimate Survivor Kaiji, is a Japanese manga series about the art of gambling, written by Nobuyuki Fukumoto. It is published by Kodansha in Young Magazine. The first part of the manga (13 volumes), was adapted as a 26-episode anime television series called Gyakkyō Burai Kaiji: Ultimate Survivor which began airing October 2007. A live-action 'Kaiji' movie was released October 10, 2009 in Japan with Tatsuya Fujiwara playing the role of Kaiji. Tobaku Mokushiroku Kaiji is considered Fukumoto's most famous work, and is well known in both Japan and Korea. In 1998, it was the winner of the Kodansha Manga Award in the General category. A second anime television series based on the second arc of the manga, entitled Gyakkyō Burai Kaiji: Hakairoku-hen premiered April 5, 2011 and ran until September 27, 2011.
Kaiji itself have a simple story, Its about a man named Kaiji who is a thief but then his life changed when he is being visited by a debt collector. The debt collector said Kaiji has an unpaid loan which Kaiji had previously co-signed for a work-mate. But his work-mate had disappeared, the loan then fell on Kaiji. Hopelessly to find a money to pay the loan. Then he find there is one way to solve his loan and that was playing a gamble. Another fun part about Kaiji is guessing. This series is really know how to keep you on your toes and as you keep guessing as the stakes get higher and the games become more absurd,Like any mystery and detective show, we're usually trying to guess on whats gonna happen next or probably trying to solve whats the trick between it. Well, Kaiji is not mystery or detective show but at least thats what i felt when i watch this show. The way how Kaiji solving each game is really remarkable and unexpected. And another great things about it was how logical Kaiji solution was. Well, sometimes another series use some illogical and unrealistic tricks but not in Kaiji, They're all making sense and that part what makes Kaiji is so amazing.
Gyakkyou Burai Kaiji: Ultimate Survivor OST & Theme Song
Gyakkyou Burai Kaiji: Hakairoku Hen Theme Song & OST