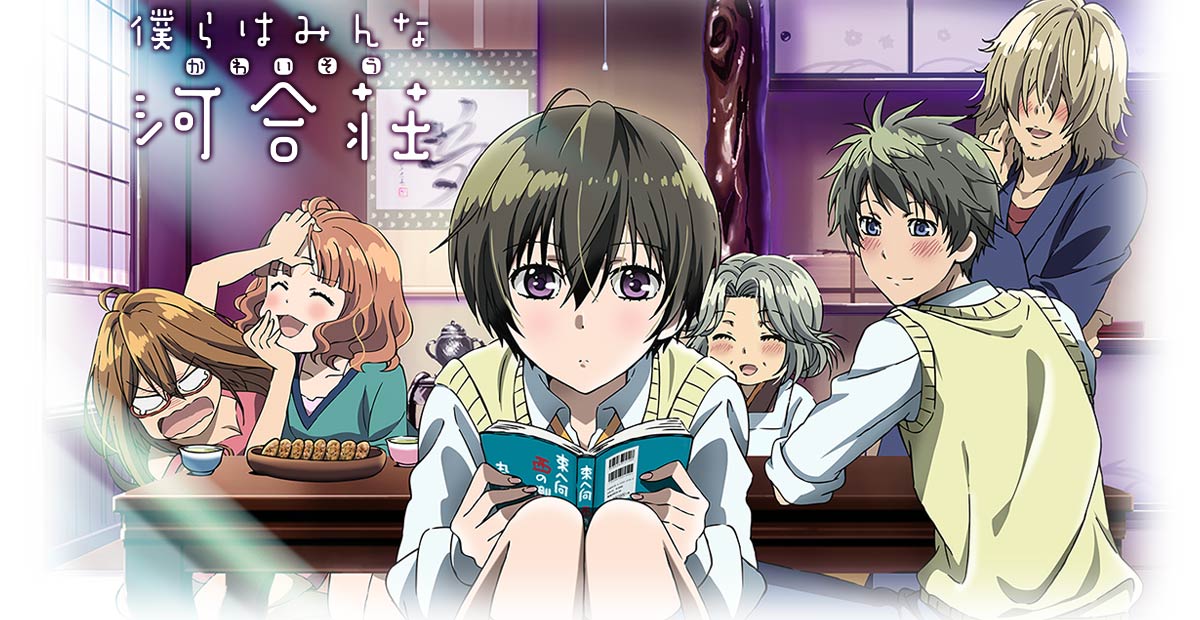 The Kawai Complex Guide to Manors and Hostel Behavior (僕らはみんな河合荘 Bokura wa Minna Kawaisou, lit. "We Are All From Dormitory Kawai", a play on words that has a double meaning of "We Are All Pitiful") is a manga series by Ruri Miyahara, published in Shōnen Gahōsha's seinen manga magazine Young King OURs since the June 2010 issue. An anime television series adaptation, produced by Brain's Base aired in Japan between April and June 2014. Usa, a high-school student aspiring to begin a bachelor lifestyle, moves into a new apartment only to discover that he not only shares a room with a perverted roommate that has an obsession for underaged girls, but also that another girl, Ritsu, a love-at-first-sight, is living in the same building as well!
What really loved about the Anime that it's purely slice of life, it shows a life of a High School boy living in a dorm having a crush on a girl…….. Besides the Anime being Slice of Life it was comedic as well, I could laugh my ass off at each scene in mostly all episodes. The feel of Slice of life made me enjoy the Anime. The Anime was cute, and everything between Rtisu(the girl) and Usa(the boy) were cute.
This anime had a lot of funny moments, which made this a great experience. I specially enjoyed how Kawai got jealous, when Usa's former middle school classmate appeared. For me Shirosaki was one of the most enjoyable characters, he was unique. The art was nice, it was quite colorful and changed depending on the aura of the characters. I didn't really focus on the sound but it gave a massive effect on the anime. All the characters were great, mainly how Usa didn't notice that Kawai was falling for him. The supporting characters were the main reason Usa got closer to her. I must've spoiled a lot. oops. I enjoyed this anime but one thing that ticked me off was that they never actually kissed. I hate when romance animes do this. In conclusion, it was very good.
Last Modified: May 27, 2016
———————————–
[Apr 30, 2014] OP: Itsuka no, Ikutsuka no Kimi to no Sekai
[May 14, 2014] ED: My Sweet Shelter
[June 25, 2014] OST: Between the Notes