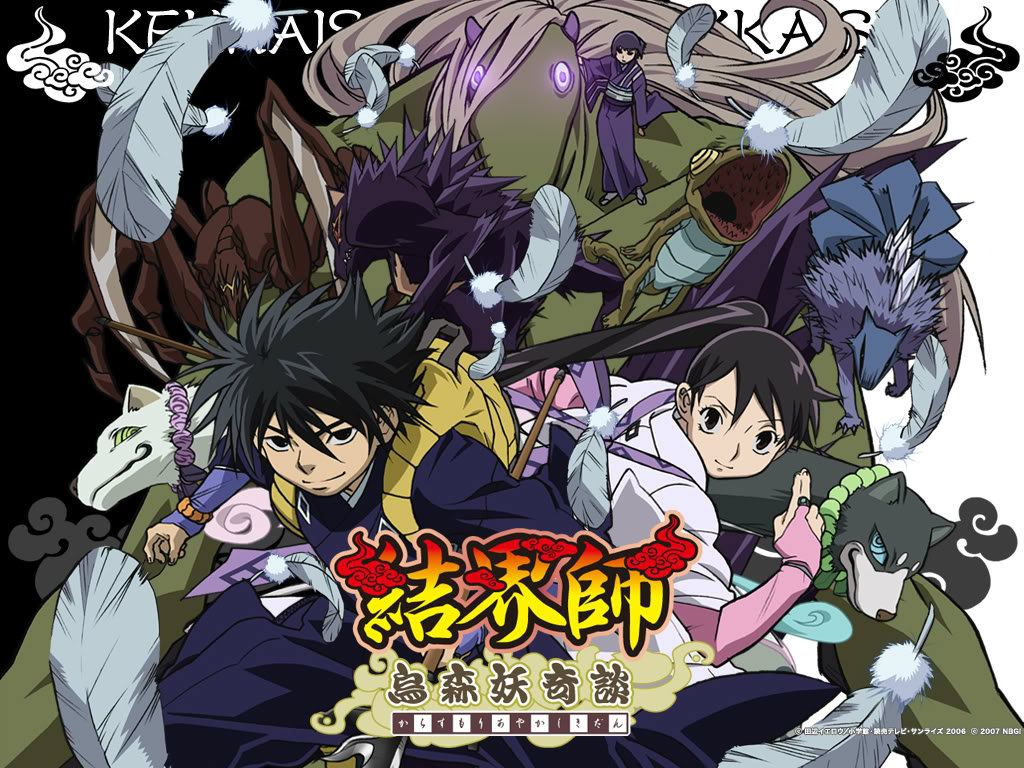 Kekkaishi (結界師, lit. "Barrier Master"
is a supernatural manga series written and illustrated by Yellow Tanabe. It was serialized in Japan by Shogakukan in the manga magazine Shōnen Sunday from 2003 to 2011. It was adapted as a fifty-two episode anime series by Sunrise, which was broadcast between October 2006 and February 2008. The series is about Yoshimori Sumimura and Tokine Yukimura, heirs to rival families of kekkai (barrier magic) users, who must defend their school from the spirits drawn to the sacred land upon which it is built. Kekkaishi received the 2007 Shogakukan Manga Award for shōnen manga.
Sumimura Yoshimori is a Kekkaishi—an inheritor of the power to battle demons, using barriers called kekkai. His family is charged with protecting the grounds of Karasumori high school, a building which magnifies the power of demons who enter it. Helping him are his spirit-wolf companion Madarao, and next door-neighbor Yukimura Tokine, the daughter of a rival clan. Years ago, Tokine was injured protecting Yoshimori, and now he is determined to become strong enough to keep her from being hurt again. Of course, he'd rather bake his exquisite cakes than have to fight demons at all, but fate has something else in store! As a shadowy demon organization moves to steal Karasumori's power, can Yoshimori overcome legions of demons, a centuries-old family rivalry, and a grandfather who just can't understand his love for baking?
Opening Theme
"Sha la la –Ayakashi NIGHT–" by Saeka Uura [Single w/scanS]
Ending Theme
#1: "Akai Ito (赤い糸)" by Koshi Inaba [Single Ver. ???] [Album Ver.]
#2: "Sekaijyuu Doko wo Sagashitemo" by Aiko Kitahara [Single (320kbps)]
#3: "My Mirai" by Saeka Uura [Single (320kbps)]
#4: "Kyuukei Jikan Juppun" by Saeka Uura [Single(192kbps)]
Kekkaishi Original Soundtrack (320kbps)
Last Modified: Sept 18, 2016