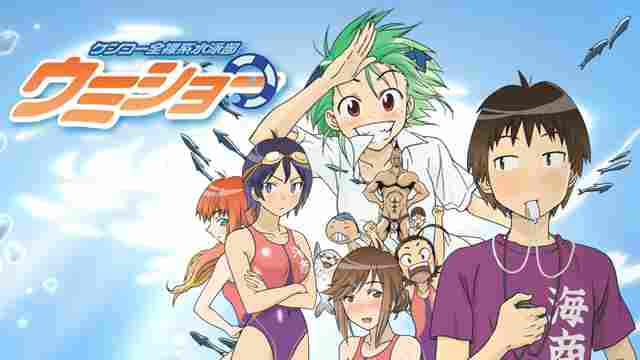 Kenkō Zenrakei Suieibu Umishō (ケンコー全裸系水泳部 ウミショー, lit. Healthy All-nude Swim Team Seacats Commerce High) is a manga series written and illustrated by Mitsuru Hattori. It has been adapted into an anime TV series which premiered in Japan on numerous television stations from July 2007 to Sep 2007.
This Anime is special in many different ways. Don't expect a complicated story or something like that. Instead, expect fan service. A LOT OF FANSERVICE! The amount of fan service is indeed "breathtaking" 😉 but still this seems perfectly fine in this show.
Kaname Okiura, a student of Prefectoral Umineko Shougyou High ("Umishou" for short), joined the school's swimming club in order to learn how to swim, but the club is filled with weirdos, let alone who can teach him swimming. Then, a sunny, happy-go-lucky girl named Amuro Ninagawa who transferred from Okinawa joined the club. Her extraordinary underwater speed and unorthodox swimming style (plus her personal habit of nude swimming—a powerful magnet to teenage boys) surprised every club member, especially Okiura, because she reminds him of a mermaid-like creature he saw only once in his early childhood.
[July 25, 2007] OP: "DOLPHIN☆JET" by Ayane
[July 25, 2007] ED: "Splash BLUE ~ Taiyō to Lemonade"
[Aug 24, 2007] Characters Vol.2 Mirei Shizuoka
[Sept 07, 2007] Characters Vol.4 Sanae Kise
[Sept 21, 2007] Characters Vol.5 Maki Ikuta
[Sept 21, 2007] Characters Vol.6 Maaya Nanako
[Oct 03, 2007] Characters Vol.3 Momoko Orizuka
[Nov 21, 2007] Kenko Zenrakei Suieibu Umisho OST
[Apr 23, 2008] The Best Vocal Collection
[Aug 24, 2008] Characters Vol.1 Amuro Ninagawa
Last Modified: Oct 12, 2017