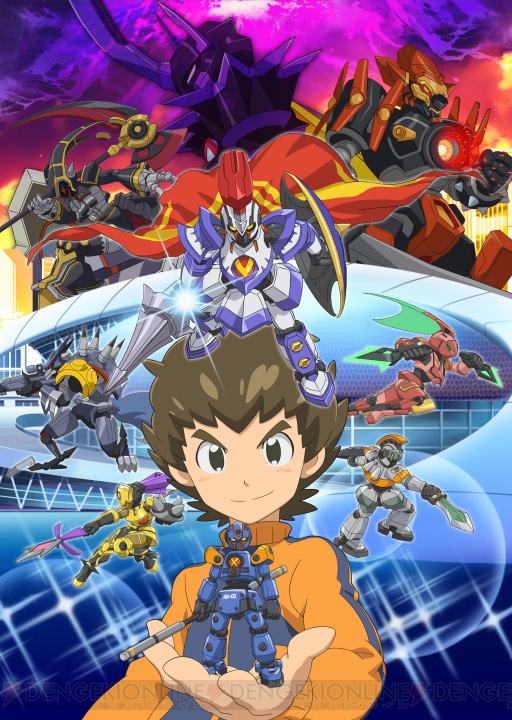 Little Battlers Experience (ダンボール戦機 , Danbal Senki), is a series of action role-playing video games created by Level-5, involving small plastic model robots known as LBXs (standing for "Little Battler eXperience"
that fight on dioramas made out of cardboard, with the main character setting out to battle against LBXs created by other characters.
In 2046, a revolutionary 80% shock-absorbing reinforced cardboard has been developed, rapidly transforming the world's exports. The reinforced cardboard would soon become the battleground for a popular children's hobby called "LBX" (Little Battler eXperience). Four years later, a boy named Yamano Ban who loves to play with LBX (although without a mecha himself) is given a case containing the model AX-00 by a mysterious woman. He is told that he now holds the hopes and despairs of mankind in his hands.
Danball Senki (2011 – 2012)
Opening Theme
#1: "1 Dream" by Little Blue boX (eps 1-24)
#2: "Ishin Denshin" (以心伝心) by Little Blue boX (eps 25-44)
Ending Theme
#1: "Boku no Chokinbako (僕の貯金箱)" by Hiroki Maekawa (eps 1-24)
#2: "Himitsu Kichi (ヒミツキチ)" by Hiroki Maekawa (前川紘毅) (eps 25-44)
Danball Senki W (2012 – 2013)
Opening Theme
#1: "BRAVE HERO" by Little Blue boX (eps 1-16)
#2: "Sanmi Ittai (三位一体)" by Little Blue boX (eps 17-34)
#3: "2 Spirits (2スピリッツ)" by Little Blue boX (eps 35-45)
#4: "Telepathy (テレパシー)" by Little Blue boX (eps 46-58)
Ending Theme
#1: "Do Wak Parappa (Do Wak パラッパ)" by Hiroki Maekawa (eps 1-16)
#2: "Me wo Tojite… (目を閉じて…) by Hiroki Maekawa (eps 17-34)
#3: "Umarekawattemo Boku de Iiyo (生まれ変わっても僕でいいよ)" by Hiroki Maekawa (eps 35-45)
#4: "Chikyuu no Kizuna (地球の絆)" by Dream5 (eps 46-57)
Danball Senki Wars (2013)
Opening Theme
#1: "Mugen Myself" by Little Blue boX (リトル・ブルー・ボックス)
#2: "ETERNAL (エターナル)" by Little Blue boX
Ending Theme
#1: "Kamisama Yayaya (神様 ヤーヤーヤー)" by Dream5 (eps 2-21)
#2: "Boku-tachi no wars (ぼくたちのウォーズ)" by Arata Sena (Ryota Ohsaka), Hikaru Hoshihara (Sayori Ishizuka), Haruki Izumo (Tomoaki Maeno) (eps 22-36)
#3: "Hirameki (閃き)" by Arata Sena (Ryota Ohsaka) (ep 37)[sociallocker]
Discography:
[May 04, 2011] Little Blue boX – 1 Dream/Great Future War
[May 04, 2011] Hiroki Maekawa – Boku no Chokinbako
[Oct 05, 2011] Hiroki Maekawa – Himitsukichi
[Oct 05, 2011] Little Blue boX – Ishin Denshin
[Mar 07, 2012] Do Wak Parappa/Kimi Ga Daisuki De
[Mar 28, 2012] Little Blue boX – Brave Hero
[Jul 25, 2012] Little Blue boX – Sanmi Ittai
[Aug 08, 2012] Hiroki Maekawa – Me wo Tojite
[Oct 17, 2012] Danball Senki LBX Battle Soundtrack
[Nov 14, 2012] Little Blue boX – 2 Spirits / Legend
[Nov 14, 2012] Hiroki Maekawa – Umarekawattemo Boku De Iiyo / Tomodachi
[Jan 23, 2013] Telepathy / Chikyuu no Kizuna
[Mar 13, 2013] Danball Senki W LBX Battle Soundtrack
[Jul 03, 2013] Little Blue boX – Mugen Myself
[Aug 14, 2013] Dream5 – Kamisama Yayaya
[Oct 23, 2013] 「Little Blue boX – Eternal/Real Answer」
[Nov 13, 2013] Boku-tachi no wars / Hirameki
[Nov 20, 2013] Danball Senki Wars OST[/sociallocker]