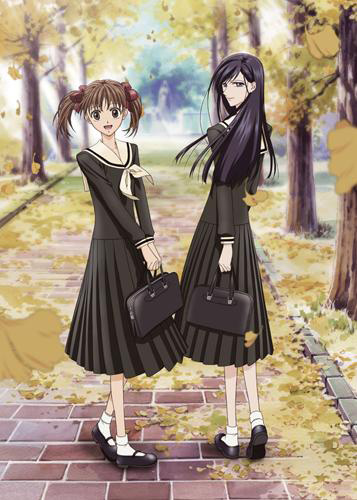 Maria-sama ga Miteru (マリア様がみてる, Maria Watches Over Us), often shortened to Marimite (マリみて), is a Japanese light novel series written by Oyuki Konno with illustrations by Reine Hibiki. Originally written as a short story in 1997, Shueisha published 39 light novel volumes from April 1998 to April 2012. The story focuses on a group of teenage girls attending the Catholic Lillian Girls' Academy in Tokyo, Japan. Its storyline largely revolves around the lives and close relationships of the school's student council known as the Yamayuri Council. A manga adaptation was published by Shueisha in Margaret and its sister magazine The Margaret. Between 2004 and 2009, the series was adapted by Studio Deen into three 13-episode anime television series and a five-episode original video animation (OVA) series. The anime adaptations have been released in North America by Nozomi Entertainment under the title Maria Watches Over Us. A live-action film adaptation was released in Japan in November 2010. Several audio dramas and music albums were also published.
Maria-sama ga Miteru received generally positive reviews by critics. It has been described as representative of yuri novels, and has been credited with starting "the modern yuri trend," in addition to reviving the Class S genre. Critics have praised the series for its strong characterization, even among peripheral characters, and for its emphasis on romance and emotion over sexuality. The dramatization, however, has been criticized as being overly dramatic at times, but the lack of malicious characters has been described as reducing the chance for more drama. The extensive use of French titles has also been criticized as being distracting and initially difficult to follow. Over 5.4 million copies of the light novels have been published.
When Yumi Fukuzawa entered the Lillian Girls' Academy, a prestigious all-girls Catholic school in Tokyo, she never imagined she would catch the eye of beautiful and demure Sachiko Ogasawara, one of the school's most popular students. Now Sachiko has offered to be Yumi's soeur, her "sister" and guide for all her years at the academy. The whole idea has Yumi completely flustered—after all, they hardly know each other! The entire campus is abuzz with rumors about the two of them, but Yumi is conflicted over accepting Sachiko's offer. While she admires Sachiko, being her soeur would also mean constantly being at the center of the entire school's attention!
Quality: 320kbps
Password: [email protected]
Theme Song Complete Collection (1st season – 4th season)
OST : Maria-sama ga Miteru / Marimite: Haru / Marimite (3) OVA / Marimite (4)