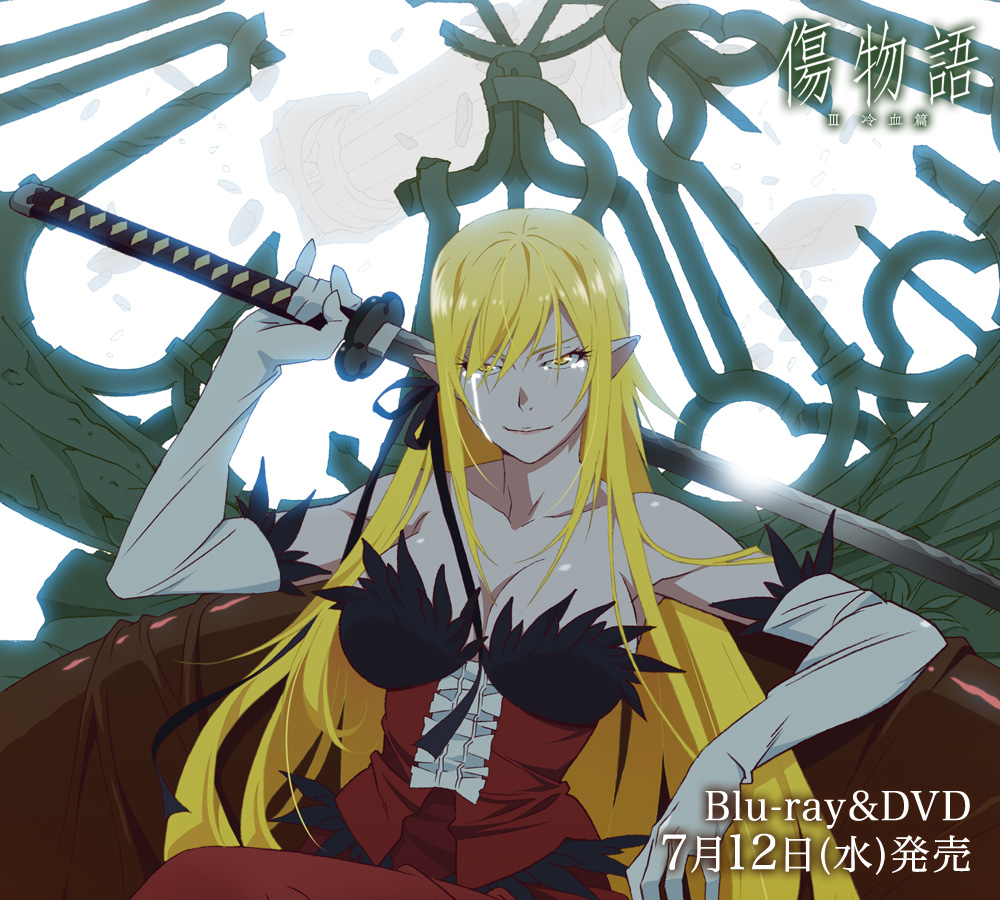 Monogatari (物語, lit. "Story"
is the general name for a series of Japanese light novels written by Japanese novelist Nisio Isin and illustrated by Taiwanese illustrator Vofan. Kodansha has published 18 novels since November 2006 under their Kodansha Box imprint, with at least one more novel planned. The story centers on Koyomi Araragi, a third-year high school student who survived a vampire attack, and finds himself helping some girls involved with all kinds of apparitions, deities, ghosts, mythological beasts, and spirits.
An anime adaptation by Shaft of Bakemonogatari aired 12 episodes between July and September 2009. An anime of the sequel Nisemonogatari aired from January to March 2012. An anime adaptation of Nekomonogatari (Kuro) aired on December 31, 2012. An anime titled Monogatari Series Second Season aired between July 6 and December 28, 2013. An anime adaptation of Tsukimonogatari aired on December 31, 2014. An anime adaptation of the Owarimonogatari novels began airing on October 3, 2015. An anime film trilogy will be produced based on the prequel novel Kizumonogatari.
Bakemonogatari / Ghostory / 化物語
[Aug 12, 2009] ED: Kimi no Shiranai Monogatari
[Sep 30, 2009] staple stable & Atogatari
[Oct 28, 2009] Kaerimichi & Atogatari
[Nov 25, 2009] ambivalent world & Atogatari
[Jan 27, 2010] Ren'ai Circulation & Atogatari
[Feb 24, 2010] sugar sweet nightmare & OST
[Jul 28, 2010] Original Soundtrack & Atogatari
[Dec 21, 2011] Bakemonogatari Complete Music Works Songs & Soundtracks
[Jan 06, 2016] Utamonogatari -Monogatari Series Theme Song Collection-
Nisemonogatari / Impostory / 偽物語
[Feb 01, 2012] ED: ClariS – Naisho no Hanashi
[Apr 25, 2012] CD 1 – marshmallow justice
[May 23, 2012] CD 2 – Music Collection 1 & Futakotome
[Jun 27, 2012] CD 3 – Music Collection 2 & Atogatari
[Jul 25, 2012] CD 4 – Music Collection 3 & Hakkin Disco
[Aug 22, 2012] CD 5 – Music Collection 4 & Atogatari
Nekomonogatari: Kuro / 猫物語(黒)
[Mar 06, 2013] CD 1 / OP – perfect slumbers & Nekomonogatari (Kuro) Music Collection
[Apr 03, 2013] CD 2 / ED – Kieru daydream & Atogatari Special Edition
//Monogatari Second Season
Nekomonogatari: Shiro
[Jul 24, 2013] ED: Ai wo Utae
Bonus CD Nekomonogatari: Shiro
[Oct 24, 2013] CD 1 – chocolate insomnia
[Nov 27, 2013] CD 2 – Nekomonogatari (Shiro) Music Collection
Kabukimonogatari
Bonus CD Kabukimonogatari
[Dec 25, 2013] CD 1 – happy bite
[Jan 22, 2014] CD 2 – Kabukimonogatari Music Collection & Atogatari
Otorimonogatari
[Oct 09, 2013] ED: "Sono Koe wo Oboeteru"
Bonus CD Otorimonogatari
[Feb 26, 2014] CD 1 – Mousou♥Express
[Mar 26, 2014] CD 2 – Otorimonogatari Music Collection & Atogatari
Onimonogatari
Bonus CD Onimonogatari
[Apr 23, 2014] CD 1 – white lies
[May 28, 2014] CD 2 – Onimonogatari Music Collection & Atogatari
Koimonogatari
[Dec 11, 2013] ED: "snowdrop" – Haruna Luna x Kawano Marina
Bonus CD Koimonogatari
[Jun 25, 2014] CD 1 – fast love & Koimonogatari Music Collection
[Jul 23, 2014] CD 2 – Kogarashi Sentiment & Atogatari
Hanamonogatari
Bonus CD Hanamonogatari
[Sep 24, 2014] CD 1 (ED) – the last day of my adolescence & Hanamonogatari Music Collection I
[Oct 22, 2014] CD 2 (OP) – Hanaato -shirushi- & Hanamonogatari Music Collection II & Atogatari
Tsukimonogatari
[Jan 07, 2015] Ending Theme: "border" by ClariS
Bonus CD Tsukimonogatari
[Feb 04, 2015] CD 1 – Orange Mint & Tsukimonogatari Music Collection I
[Mar 04, 2015] CD 2 – Tsukimonogatari Music Collection II & Atogatari
Owarimonogatari
[Nov 18, 2015] Ending Theme: "Sayonara no Yukue" by Alisa Takigawa
Bonus CD Owarimonogatari
[Dec 23, 2015] CD 1 (OP1) – decent black & Atogatari
[Jan 27, 2016] CD 2 (OP2) – mathemagics & Atogatari
[Feb 24, 2016] CD 3 – Yuudachi Houteishiki & Atogatari
[Mar 23, 2016] CD 4 (OP3) – mein schatz & Owarimonogatari Music Collection I
[Apr 27, 2016] CD 5 – Owarimonogatari Music Collection II & Atogatari
Koyomimonogatari
[Feb 10, 2016] Ending Theme: TrySail – "whiz"
[Jun 29, 2016] Bonus CD: Atogatari (not interested)
Kizumonogatari
[July 27, 2016] Bonus CD: Music Collection I
[Dec 21, 2016] Kizumonogatari Music Collection II