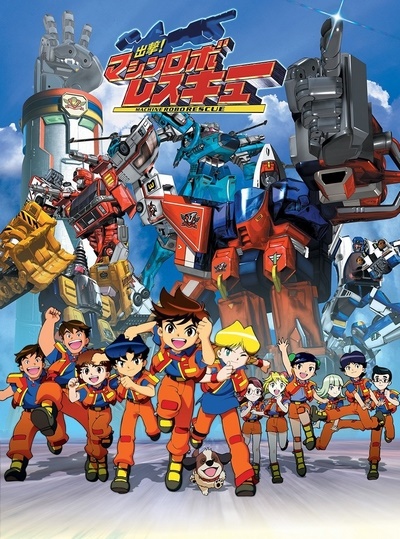 Sortie! Machine Robo Rescue (出撃!マシンロボレスキュー Shutsugeki! Machine Robo Rescue) is a 2003 mecha anime series produced by Sunrise. It's the third incarnation of the Machine Robo anime trilogy, which is based on the toyline by PLEX and Bandai. It is directed by Mamoru Kanbe (Cardcaptor Sakura) and written by Hideki Sonoda (Machine Robo: Revenge of Cronos). It aired on TV Tokyo from January 8, 2003 to January 3, 2004, having a total of 13 episodes.
In the future, age is not a factor to determine whether someone can perform a certain task or not, but special talent and training. An organization, Machine Robo Rescue (MRR), was established for robots and children to become partner and rescue people from danger. Then 12 children with various abilities were selected and introduced as part of this program: Robo Rescue!
Meet Oozora Taiyou, one of the children who were chosen as a part of MRR program. After being late on his first day of training, he went to perform a hot rescue with JETROBO. However, a mysterious Robot from mysterious organization, "The Star"(?), appeared before MRR team to interfere with the rescue. What are the motives of the mysterious organization? And what are their goals?
Life as one of the children chosen as part of MRR has started for Oozora Taiyou. Bumpy and hard training is just ahead for MRR team in order to protect many people's life!
Opening Theme: "Go! Go! Rescue" by JAM Project
Ending Theme: "March of Rescue Hero" by JAM Project
[2003.02.26] Go! Go! Rescue / March of Rescue Hero
[2003.06.25] Machine Robo Rescue OST 1
[2003.11.27] Machine Robo Rescue OST 2