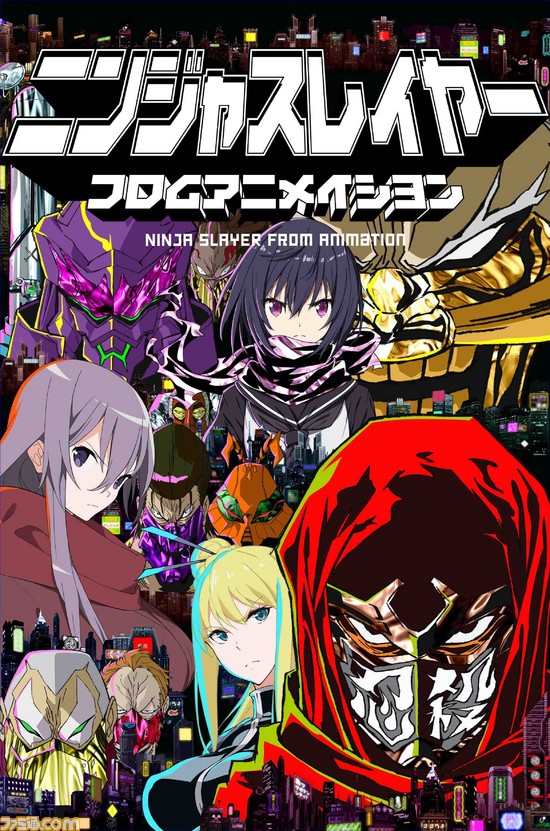 Ninja Slayer From Animation / ニンジャスレイヤー フロムアニメイシヨン
Ninja Slayer (ニンジャスレイヤー) is a Japanese science fiction novel series, purportedly created by the American authors Bradley Bond and Philip "Ninj@" Morzez. After they gave permission for Japanese translations to be published via Twitter, Enterbrain published the first translated novel in September 2012, with illustrations by Warainaku. Fourteen novels have been released as of July 2015. It has received three manga adaptations. An ONA adaptation produced by Trigger and directed by Akira Amemiya started airing in April 2015. The story takes place in the cyberpunk metropolis of Neo-Saitama. After his wife and child are killed in a ninja turf war, salaryman Kenji Fujikido gets possessed by a mysterious ninja soul known as Naraku Ninja. As Naraku's craving for massacring the evil ninja overlaps with Fujikido's lust for revenge, together they bring Ninja Slayer – a terrifying ninja-killing grim reaper – into existence. The more their mental resonance and physical symbiosis deepens, the more powerful Ninja Slayer becomes. If Fujikido completely surrenders himself to Naraku, he will be unstoppable.
Ninja… Ninja were… merciless demi-gods, ruling Japan with their karate in the age of ninja tranquillity. But, "some" committed a forbidden form of hara-kiri storing their souls at Kinkaku Temple for future resurrection. Their lost history was falsified and concealed and the truth about these ninja was long forgotten.
Now, in the future where the universalization of cybernetic technology and electronic networks are God, suddenly, sinister ninja souls, resurrected from thousands of years past are unleashed on the dark shadows of Neo-Saitama. Fujikido Kenji, is a salaryman whose wife and child were killed in a ninja turf war. In a brush with his own death, Fujikido is possessed by an enigmatic ninja soul. Fujikido cheats death and becomes Ninja Slayer. A Grim Reaper destined to kill evil ninja, committed to a personal war of vengeance.
Set in the dystopian underworld of Neo-Saitama, Ninja Slayer takes on Soukai Syndicate ninjas in mortal combat.
[sociallocker]Opening Theme: "BACK IN BLACK" – BOOM BOOM SATELLITES [Album]
Ninja Slayer From Animation OST: Vol. 1 / Vol. 2
ED Theme & BGM Selection:
1. Ninja Slayer From Compilation "「Nin」"
2. Ninja Slayer From Compilation "「Satsu」"[/sociallocker]