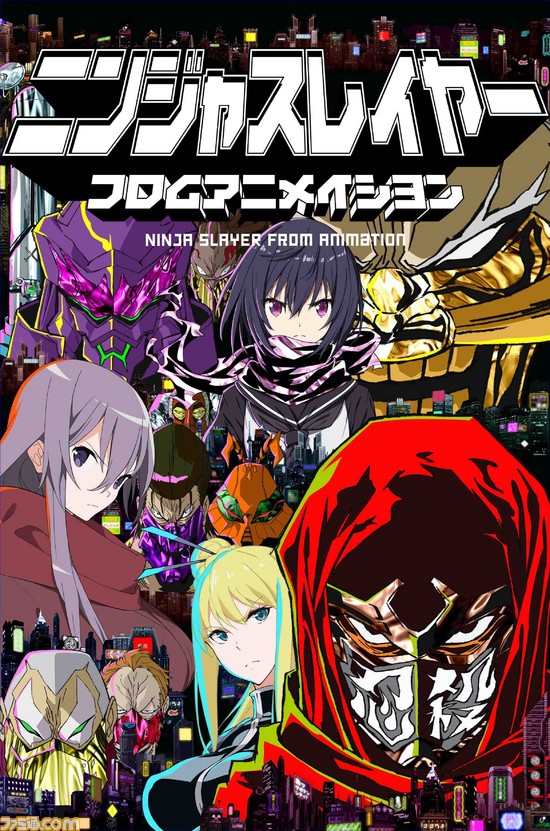 Ninja Slayer From Animation / ニンジャスレイヤー フロムアニメイシヨン
Ninja Slayer (ニンジャスレイヤー) is a Japanese science fiction novel series, purportedly created by the American authors Bradley Bond and Philip "[email protected]" Morzez. After they gave permission for Japanese translations to be published via Twitter, Enterbrain published the first translated novel in September 2012, with illustrations by Warainaku. An ONA adaptation produced by Trigger and directed by Akira Amemiya started airing in April 2015.
The story takes place in the cyberpunk metropolis of Neo-Saitama. After his wife and child are killed in a ninja turf war, salaryman Kenji Fujikido gets possessed by a mysterious ninja soul known as Naraku Ninja. As Naraku's craving for massacring the evil ninja overlaps with Fujikido's lust for revenge, together they bring Ninja Slayer – a terrifying ninja-killing grim reaper – into existence. The more their mental resonance and physical symbiosis deepens, the more powerful Ninja Slayer becomes. If Fujikido completely surrenders himself to Naraku, he will be unstoppable.
[Feb 04, 2015] OP: "BACK IN BLACK"
[Jun 24, 2015] Ninja Slayer From Animation OST 1
[Jul 22, 2015] Ninja Slayer From Compilation "Nin"
[Aug 26, 2015] Ninja Slayer From Animation OST 2
[Nov 25, 2015] Ninja Slayer From Compilation "Satsu"
[Jul 27, 2016] Ninja Slayer From Compilation "Batsu"