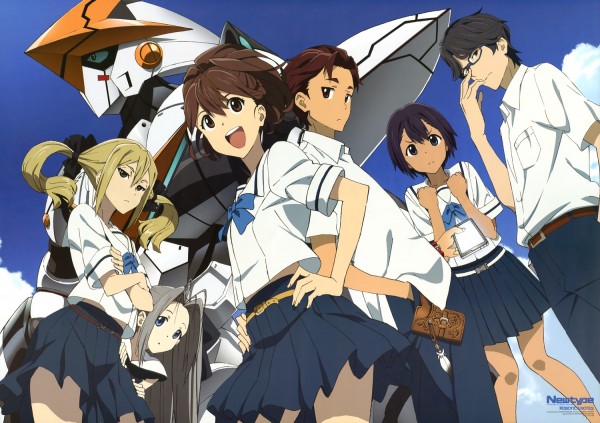 Robotics;Notes (ロボティクス・ノーツ) is a Japanese visual novel developed and published by 5pb. It is the third game in 5pb.'s Science Adventure series following Chaos;Head and Steins;Gate and is described as an "Augmented Science Adventure" (拡張科学アドベンチャー). An anime adaptation by Production I.G aired in Fuji TV's Noitamina slot between October 2012 and March 2013.
The basic story whilst a little far fetched is indeed interesting. A School Club attempting to build a giant Mecha. Saying it like that it even sounds downright cheesy. But this plays to Robotics;Notes' strengths I felt. Whilst the story is a little out there, 5pb has done a wonderful job of making it seem perfectly pheasable. I also went in expecting it to be a little more light in comparison to Steins;Gate. Whilst it was a little less heavy at the beginning as you continue after the first three or four episodes it starts to get a lot darker and downright creepy at points. Whenever "Kagome Kagome" started playing I got chills down my spine.
From a story standpoint I'm willing to say it stands on par with Steins;Gate. Whilst not as compelling as Time Travel, the more you watch it the more you'll come to love it. Robotics;Notes will not appeal to everybody. But I'll go out on a limb here and say that if you enjoyed Steins;Gate you're going to enjoy this. From what I've seen so far it hasn't yet reached the lofty heights of S;G but its a worthy successor and well worth a watch even if you haven't seen Steins;Gate or Chaos;Head.
[Nov 07, 2012] ED1#: "Umikaze no Brave" by fumika
[Nov 21, 2012] OP1#: "Junjou Spectra" by Zwei
[Jan 23, 2013] Bonus CD 1 – Original Drama CD 1
[Feb 27, 2013] Bonus CD 2 – Teaching CD
[Mar 06, 2013] ED2#: "Topology" by Itou Kanako
[Mar 13, 2013] OP2#: "Houkyou no Messiah" by haruki
[Mar 27, 2013] Bonus CD 3 – Remix CD
[Apr 24, 2013] Bonus CD4 – Original Drama CD 2
[Apr 24, 2013] TV ANIMATION ROBOTICS;NOTES Original Soundtrack
[May 22, 2013] Bonus CD 5 – Teaching CD 2
[Jun 26, 2013] Bonus CD 6 – Radio CD
[Jul 24, 2013] Bonus CD 7 – Drama CD 3
[Aug 21, 2013] Bonus CD 8 – OST Out Tracks
[Sep 25, 2013] Bonus CD 9 – Drama CD 4