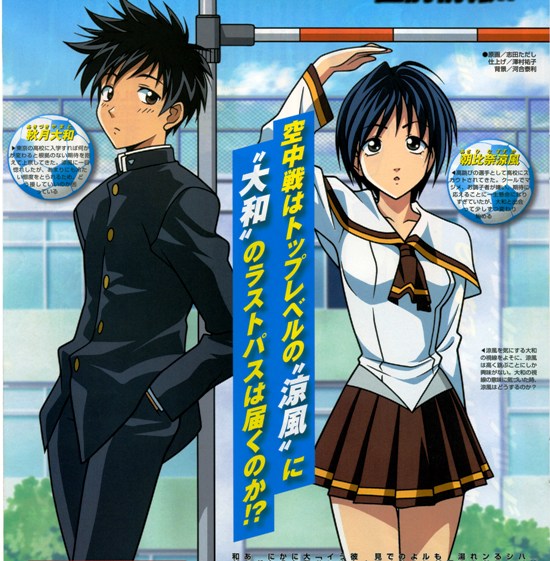 Suzuka (涼風) is a Japanese manga written and illustrated by Kouji Seo. Suzuka was serialized in the Japanese magazine Weekly Shōnen Magazine published by Kodansha. It was adapted into a twenty-six episode anime series and aired on TV Tokyo in Japan between 6 July 2005 and 28 December 2005. The series is a character-driven romance story that uses the athletics of track and field as a subplot. The story primarily follows the life of the teenager Yamato Akitsuki, who moved to Tokyo to change himself, and his main love interest Suzuka Asahina, a talented and highly scouted high jumper who lives in Yamato's aunt's dormitory and attends his new high school.
The anime's music, including the background music and theme songs, was composed by Takumi Masanori and POM. The vocals for the opening and ending songs were provided by COACH☆. Except for one member of the group COACH☆, all worked as a voice actor for one of the series' characters.
Yamato Akitsuki travels to Tokyo alone to study in one of the high schools located within the area. He lives in with his aunt who operates a public bath solely for the ladies in the local district and begins his normal high-school life. One day, he chances upon a girl in school and is immediately mesmerized by her beauty. He is shocked when he realizes later that the girl, Suzuka, is actually living next door to him. From then on, Yamato's ordinary life begins to change little by little.
[Aug 13, 2005] OP&ED: COACH – Start Line / Aoi Field
[Sep 22, 2005] Suzuka Character Song Collection & OST "Music Field 1"
[Nov 23, 2005] Suzuka "Music Field 2" & ED theme "Kimi no Koto"
Opening Theme: "Start Line" by COACH☆
Ending Theme
#01: "Aoi FIELD" by COACH☆ (eps 1-14)
#02: "Kimi no Koto" by COACH☆ (eps 15-26)
Last Modified: Sept 23, 2017