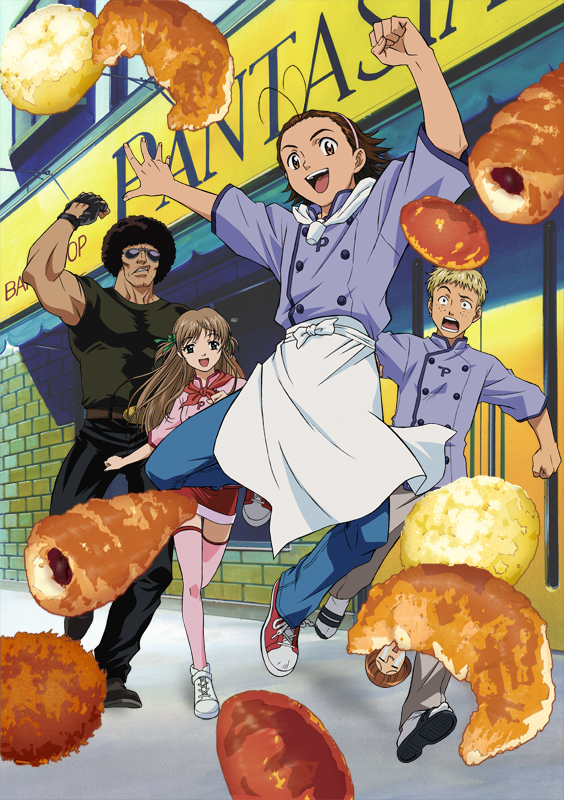 Yakitate!! Ja-pan (焼きたて!! ジャぱん, meaning "Freshly Baked!! Ja-pan", the "pan" also meaning "bread" in Japanese) is a manga, authored by Takashi Hashiguchi, serialized in Shogakukan's Shōnen Sunday, which has been adapted into an anime television series by Sunrise. The manga has spanned 26 tankōbon volumes, while the weekly serialization of the manga has ended as of January 10, 2007. The anime series, broadcast on TV Tokyo and other local stations from October 2004 to March 2006, spanned a total of 69 episodes. The series won the 2003 Shogakukan Manga Award for best shōnen manga.
Yakitate means "fresh baked", but the word "Japan" is actually a pun – pan means bread in Japanese, so Kazuma is out to make Japan, a unique Japanese bread to compete with the best bread from around the world!
Azuma became obsessed with bread when he was six years old. His sister yelled that their family should start having bread for breakfast sometimes, but their grandfather refused to even consider it, as he would only eat natto, miso soup, and rice for breakfast. Kazuma agreed, saying he didn`t like bread, but his sister kidnaps him and takes him to a bread store to show him the wonders of fresh-baked bread. Not only is Kazuma converted, but the owner discovers that Kazuma has the magical "Hands of the Sun" whose warmth makes them particularly suited to making bread. The owner packs up shop and goes to Tokyo to fulfill his dream of making Japan, but Kazuma continues his bread-baking dream as well, and ends up going to Tokyo himself when he`s sixteen, to compete for a spot at the foremost bread store in Japan – Pantasia!
Last Modified: Feb 26, 2016
[Nov 10, 2004] The Babystars – Sunday
[Jan 01, 2005] SOUL'd OUT – To All Tha Dreamers
[Jan 26, 2005] RYTHEM – Houkigumo
[Mar 24, 2005] Yakitate!! JAPAN OST 1
[Jun 08, 2005] little by little – Humming Bird
[Aug 03, 2005] TiA – Promise
[Oct 05, 2005] surface – Re: START
[Nov 23, 2005] Yakitate!! JAPAN OST 2
[Jan 11, 2006] Hoshimura Mai – Merry Go Round
[Mar 01, 2006] RYTHEM – Kokoro Biidama
[Mar 08, 2006] MARIA – Chiisana Uta
[Jun 21, 2006] Yakitate!! JAPAN Shudaikashuu BEST Ban!