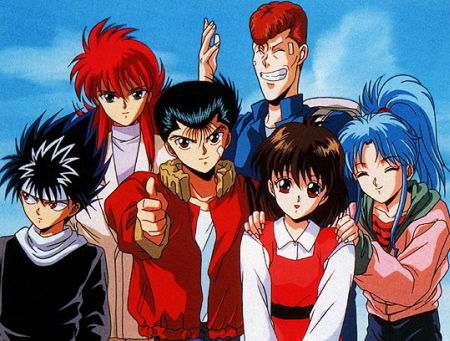 Yu Yu Hakusho (幽☆遊☆白書, lit. "Ghost Files" or "Poltergeist Report"), also known as Yu Yu Hakusho: Ghost Files, is a Japanese manga series written and illustrated by Yoshihiro Togashi. The series tells the story of Yusuke Urameshi, a teenage delinquent who is struck and killed by a car while attempting to save a child's life. After a number of tests presented to him by Koenma, the son of the ruler of the afterlife Underworld, Yusuke is revived and appointed the title of "Underworld Detective", with which he must investigate various cases involving demons and apparitions in the human world. The manga becomes more focused on martial arts battles and tournaments as it progresses. Togashi began creating Yu Yu Hakusho around November 1990, basing the series on his interests in the occult and horror films and an influence of Buddhist mythology.
An anime adaptation consisting of 112 television episodes was directed by Noriyuki Abe and co-produced by Fuji Television, Yomiko Advertising, and Studio Pierrot. The television series originally aired on Japan's Fuji TV network from October 10, 1992 to December 17, 1994. Yu Yu Hakusho is created by popular mangaka Yoshihiro Togashi, who is also responsible for creating the acclaimed and much-loved series known as Hunter X Hunter. Yu Yu Hakusho also managed to surpass Dragon Ball Z in ratings during its TV run.Yu Yu Hakusho has been well received, with the manga selling over 50 million copies in Japan alone and winning the prestigious Shogakukan Manga Award for shōnen manga in 1993. The animated series won the Animage Anime Grand Prix prize for best anime in 1994 and 1995.
Urameshi Yusuke, 14 years of age, is about as troublesome and violent as teenagers come. He is constantly ditching school, causing trouble, and getting into numerous fights everyday. One day however, he does the unexpected, sacrificing himself to save a young child. Such an action, was never ever expected, especially coming from someone as troublesome as Urameshi Yusuke. The afterlife is not prepared for Yusuke, as they never thought he would make such a sacrifice. Nowhere to go, and dead, Yusuke becomes a ghost and must earn his way back into existence.
Yusuke is "employed" by Koenma, who is in charge while his father and ruler of the afterlife, King Enma, is away. Under Koenma's command, Yusuke helps to stop menacing demons that threaten the lives of people everywhere; whether by stealing priceless and invaluable items and destructive weapons, or by wreaking havoc on humans everywhere. Throughout Yusuke's journey, he is usually joined by; his arch-rival, and local bully, Kuwabara Kazuma. He is also joined by two demons named Hiei and Kurama, whom are ex-convicts of the afterlife that managed to escape from Koenma. This group of unlikely allies goes on to participate and struggle in battles that have outcomes that determine the fate of humanity!
Last Modified: Sept 18, 2017
[Feb 19, 1993] Yu Yu Hakusho Original Soundtrack
[Mar 17, 1993] Yu Yu Hakusho collective songs
[Aug 20, 1993] Yu Yu Hakusho Music Battle
[Dec 17, 1993] Yu Yu Hakusho Nesshou Hen ~Karaoke Battle Royale~
[Mar 18, 1994] Yu Yu Hakusho Original Soundtrack 2
[Apr 27, 1994] Yu Yu Hakusho Meikai Shitou Hen Honoo no Kizuna OST
[Aug 19, 1994] Yu Yu Hakusho Music Battle 2
[Nov 18, 1994] Yu Yu Hakusho Nesshou Hen 2 ~Duet & Karaoke Special~
[Dec 16, 1994] Yu Yu Hakusho Music Battle 3
[Jan 20, 1995] Yu Yu Hakusho Symphonic Collection
[May 19, 1995] Yu Yu Hakusho Memorial BOX (6 Discs)
[Dec 16, 1995] Yu Yu Hakusho Super Covers
[Mar 21, 1996] Yu Yu Hakusho Super Dancemix
[Jun 21, 1996] Yu Yu Hakusho Symphonic Collection 2
[Mar 21, 1997] Legend of YU YU HAKUSHO 'SAI-KYOU' Best Selection Album
[Mar 17, 1999] Yu Yu Hakusho collective rare trax
[Feb 17, 2016] Yu Yu Hakusho Main Theme Song & Character Song Collection Kettei Ban